*---------*---------*---------*---------*---------*---------*
*---------*---------*---------*---------*---------*---------*
*---------*---------*---------*---------*---------*---------*
*---------*---------*---------*---------*---------*---------*
The PSL urges all progressive organizations to show their support for The People's Forum which was targeted tonight by a right-wing physical assault on its offices. The NYPD were fully involved in this coordinated assault. The following is a statement issued by the The People's Forum following the attack. Please share widely.
NYPD and Far-Right forces collude in physical assault on a socialist and anti-racist space
The People's Forum in New York City attacked by the far-right, enabled by the police
Since our founding in 2018, our space, The People's Forum (TPF) has been the target of multiple attacks by the far-right on both social media and in our location. We have managed to defend our space which operates on values and principles of social justice and people power. Most recently a coalition of anti-vaxxers, Cuban and Venezuelan anti-communists, and other far-right reactionaries have increased their attacks on TPF. Today, over a dozen officers of the New York Police Department (NYPD) entered TPF, uninvited, and acted as security for the far-right who carried out an illegal attack on our space.
We ground and pride ourselves in organizing our own safety and coordinating with other organizations to defend and protect each other. Today, as many of TPF staff and leadership are in Los Angeles building The People's Summit for Democracy, this far-right coalition attempted to forcefully occupy our space as part of a larger strategy against TPF's politics and mission. The NYPD facilitated the attempted occupation by objectively preventing us from ejecting these far-right reactionaries. They allowed for the occupation attempt to continue for over an hour, while our staff and guests were physically assaulted and verbally harassed, and anti-vaxxers vandalized our space.
Today, this far-right coalition was driven out of the space by the strong stance and resistance of TPF staff and fellow comrades who protected the space. Rest assured, we will continue to uplift our socialist values and be a welcoming space for working people and all those who want to transform society for the better.
Questions? Comments? Contact us:
https://pslweb.org/contact/
You can also keep up with the PSL on Twitter or Facebook.
*---------*---------*---------*---------*---------*---------*
*---------*---------*---------*---------*---------*---------*
Tell Congress to Help #FreeDanielHale
U.S. Air Force veteran, Daniel Everette Hale has recently completed his first year of a 45-month prison sentence for exposing the realities of U.S drone warfare. Daniel Hale is not a spy, a threat to society, or a bad faith actor. His revelations were not a threat to national security. If they were, the prosecution would be able to identify the harm caused directly from the information Hale made public. Our members of Congress can urge President Biden to commute Daniel's sentence! Either way, Daniel deserves to be free.
https://oneclickpolitics.global.ssl.fastly.net/messages/edit?promo_id=16979
*---------*---------*---------*---------*---------*---------*
*---------*---------*---------*---------*---------*---------*
Sign the petition:
https://dontextraditeassange.com/petition/
If extradited to the United States, Julian Assange, father of two young British children, would face a sentence of 175 years in prison merely for receiving and publishing truthful information that revealed US war crimes.
UK District Judge Vanessa Baraitser has ruled that "it would be oppressive to extradite him to the United States of America".
Amnesty International states, "Were Julian Assange to be extradited or subjected to any other transfer to the USA, Britain would be in breach of its obligations under international law."
Human Rights Watch says, "The only thing standing between an Assange prosecution and a major threat to global media freedom is Britain. It is urgent that it defend the principles at risk."
The NUJ has stated that the "US charges against Assange pose a huge threat, one that could criminalise the critical work of investigative journalists & their ability to protect their sources".
Julian will not survive extradition to the United States.
The UK is required under its international obligations to stop the extradition. Article 4 of the US-UK extradition treaty says: "Extradition shall not be granted if the offense for which extradition is requested is a political offense."
The decision to either Free Assange or send him to his death is now squarely in the political domain. The UK must not send Julian to the country that conspired to murder him in London.
The United Kingdom can stop the extradition at any time. It must comply with Article 4 of the US-UK Extradition Treaty and Free Julian Assange.
*---------*---------*---------*---------*---------*---------*
*---------*---------*---------*---------*---------*---------*
Laws are created to be followed
by the poor.
Laws are made by the rich
to bring some order to exploitation.
The poor are the only law abiders in history.
When the poor make laws
the rich will be no more.
—Roque Dalton Presente!
(May 14, 1935 – Assassinated May 10, 1975)[1]
---
[1] Roque Dalton was a Salvadoran poet, essayist, journalist, political activist, and intellectual. He is considered one of Latin America's most compelling poets.
Poems:
http://cordite.org.au/translations/el-salvador-tragic/
About:
https://en.wikipedia.org/wiki/Roque_Dalton
*---------*---------*---------*---------*---------*---------*
*---------*---------*---------*---------*---------*---------*
Screenshot of Kevin Cooper's artwork from the teaser.


"In His Defense" The People vs. Kevin Cooper
A film by Kenneth A. Carlson
Teaser is now streaming at:
https://www.carlsonfilms.com
Posted by: Death Penalty Focus Blog, January 10, 2022
https://deathpenalty.org/teaser-for-a-kevin-cooper-documentary-is-now-streaming/?eType=EmailBlastContent&eId=1c7299ab-018c-4780-9e9d-54cab2541fa0
"In his Defense," a documentary on the Kevin Cooper case, is in the works right now, and California filmmaker Kenneth Carlson has released a teaser for it on CarlsonFilms.com
Just over seven months ago, California Gov. Gavin Newsom ordered an independent investigation of Cooper's death penalty case. At the time, he explained that, "In cases where the government seeks to impose the ultimate punishment of death, I need to be satisfied that all relevant evidence is carefully and fairly examined."
That investigation is ongoing, with no word from any of the parties involved on its progress.
Cooper has been on death row since 1985 for the murder of four people in San Bernardino County in June 1983. Prosecutors said Cooper, who had escaped from a minimum-security prison and had been hiding out near the scene of the murder, killed Douglas and Peggy Ryen, their 10-year-old daughter, Jessica, and 10-year-old Chris Hughes, a friend who was spending the night at the Ryen's. The lone survivor of the attack, eight-year-old Josh Ryen, was severely injured but survived.
For over 36 years, Cooper has insisted he is innocent, and there are serious questions about evidence that was missing, tampered with, destroyed, possibly planted, or hidden from the defense. There were multiple murder weapons, raising questions about how one man could use all of them, killing four people and seriously wounding one, in the amount of time the coroner estimated the murders took place.
The teaser alone gives a good overview of the case, and helps explain why so many believe Cooper was wrongfully convicted.
*---------*---------*---------*---------*---------*---------*
*---------*---------*---------*---------*---------*---------*


New Legal Filing in Mumia's Case
The following statement was issued January 4, 2022, regarding new legal filings by attorneys for Mumia Abu-Jamal.
Campaign to Bring Mumia Home
In her novel Their Eyes Were Watching God, Zora Neale Hurston wrote, "There are years that ask questions, and years that answer."
With continued pressure from below, 2022 will be the year that forces the Philadelphia District Attorney's Office and the Philly Police Department to answer questions about why they framed imprisoned radio journalist and veteran Black Panther Mumia Abu-Jamal. Abu-Jamal's attorneys have filed a Pennsylvania Post Conviction Relief Act (PCRA) petition focused entirely on the six boxes of case files that were found in a storage room of the DA's office in late December 2018, after the case being heard before Judge Leon Tucker in the Court of Common Pleas concluded. (tinyurl.com/zkyva464)
The new evidence contained in the boxes is damning, and we need to expose it. It reveals a pattern of misconduct and abuse of authority by the prosecution, including bribery of the state's two key witnesses, as well as racist exclusion in jury selection—a violation of the landmark Supreme Court decision Batson v. Kentucky. The remedy for each or any of the claims in the petition is a new trial. The court may order a hearing on factual issues raised in the claims. If so, we won't know for at least a month.
The new evidence includes a handwritten letter penned by Robert Chobert, the prosecution's star witness. In it, Chobert demands to be paid money promised him by then-Prosecutor Joseph McGill. Other evidence includes notes written by McGill, prominently tracking the race of potential jurors for the purposes of excluding Black people from the jury, and letters and memoranda which reveal that the DA's office sought to monitor, direct, and intervene in the outstanding prostitution charges against its other key witness Cynthia White.
Mumia Abu-Jamal was framed and convicted 40 years ago in 1982, during one of the most corrupt and racist periods in Philadelphia's history—the era of cop-turned-mayor Frank Rizzo. It was a moment when the city's police department, which worked intimately with the DA's office, routinely engaged in homicidal violence against Black and Latinx detainees, corruption, bribery and tampering with evidence to obtain convictions.
In 1979, under pressure from civil rights activists, the Department of Justice filed an unprecedented lawsuit against the Philadelphia police department and detailed a culture of racist violence, widespread corruption and intimidation that targeted outspoken people like Mumia. Despite concurrent investigations by the FBI and Pennsylvania's Attorney General and dozens of police convictions, the power and influence of the country's largest police association, the Fraternal Order of Police (FOP) prevailed.
Now, more than 40 years later, we're still living with the failure to uproot these abuses. Philadelphia continues to fear the powerful FOP, even though it endorses cruelty, racism, and multiple injustices. A culture of fear permeates the "city of brotherly love."
The contents of these boxes shine light on decades of white supremacy and rampant lawlessness in U.S. courts and prisons. They also hold enormous promise for Mumia's freedom and challenge us to choose Love, Not PHEAR. (lovenotphear.com/) Stay tuned.
—Workers World, January 4, 2022
https://www.workers.org/2022/01/60925/
Pa. Supreme Court denies widow's appeal to remove Philly DA from Abu-Jamal case
Abu Jamal was convicted by a jury of first-degree murder of Faulkner in 1982. Over the past four decades, five of his appeals have been quashed.
In 1989, the state's highest court affirmed Abu-Jamal's death penalty conviction, and in 2012, he was re-sentenced to life in prison.
Abu-Jamal, 66, remains in prison. He can appeal to the state Supreme Court, or he can file a new appeal.
KYW Newsradio reached out to Abu-Jamal's attorneys for comment. They shared this statement in full:
"Today, the Superior Court concluded that it lacked jurisdiction to consider issues raised by Mr. Abu-Jamal in prior appeals. Two years ago, the Court of Common Pleas ordered reconsideration of these appeals finding evidence of an appearance of judicial bias when the appeals were first decided. We are disappointed in the Superior Court's decision and are considering our next steps.
"While this case was pending in the Superior Court, the Commonwealth revealed, for the first time, previously undisclosed evidence related to Mr. Abu-Jamal's case. That evidence includes a letter indicating that the Commonwealth promised its principal witness against Mr. Abu-Jamal money in connection with his testimony. In today's decision, the Superior Court made clear that it was not adjudicating the issues raised by this new evidence. This new evidence is critical to any fair determination of the issues raised in this case, and we look forward to presenting it in court."
https://www.audacy.com/kywnewsradio/news/local/pennsylvania-superior-court-rejects-mumia-abu-jamal-appeal-ron-castille
Governor Tom Wolf -1(717) 787-2500 Fax 1 (717) 772-8284
508 Main Capitol Building
Questions and comments may be sent to: info@freedomarchives.org


*---------*---------*---------*---------*---------*---------*
*---------*---------*---------*---------*---------*---------*
A Plea for the Compassionate Release of
Leonard Peltier
https://www.youtube.com/watch?v=jWdJdODKO6M&feature=youtu.be


Sign our petition urging President Biden to grant clemency to Leonard Peltier.
https://www.freeleonardpeltier.com/petition

Email: contact@whoisleonardpeltier.info

Address: 116 W. Osborne Ave. Tampa, Florida 33603
*---------*---------*---------*---------*---------*---------*
Bury My Heart with Leonard Peltier
How long will he still be with us? How long will the genocide continue?
By Michael Moore
—VIA Email: michaelmoore@substack.com














































LEONARD PELTIER, Native American hero. An innocent man, he's spent 44 years as a political prisoner. The prosecutor who put him behind bars now says Peltier is innocent. President Biden, go to Mass today, and then stop this torture. (Sipa/Shutterstock)


American Indian Movement leader, Leonard Peltier, at 77 years of age, came down with Covid-19 this weekend. Upon hearing this, I broke down and cried. An innocent man, locked up behind bars for 44 years, Peltier is now America's longest-held political prisoner. He suffers in prison tonight even though James Reynolds, one of the key federal prosecutors who sent Peltier off to life in prison in 1977, has written to President Biden and confessed to his role in the lies, deceit, racism and fake evidence that together resulted in locking up our country's most well-known Native American civil rights leader. Just as South Africa imprisoned for more than 27 years its leading voice for freedom, Nelson Mandela, so too have we done the same to a leading voice and freedom fighter for the indigenous people of America. That's not just me saying this. That's Amnesty International saying it. They placed him on their political prisoner list years ago and continue to demand his release.
And it's not just Amnesty leading the way. It's the Pope who has demanded Leonard Peltier's release. It's the Dalai Lama, Jesse Jackson, and the President Pro-Tempore of the US Senate, Sen. Patrick Leahy. Before their deaths, Nelson Mandela, Mother Theresa and Bishop Desmond Tutu pleaded with the United States to free Leonard Peltier. A worldwide movement of millions have seen their demands fall on deaf ears.
And now the calls for Peltier to be granted clemency in DC have grown on Capitol Hill. Senator Brian Schatz (D-HI), the head of the Senate committee who oversees the Bureau of Indian Affairs, has also demanded Peltier be given his freedom. Numerous House Democrats have also written to Biden.
The time has come for our President to act; the same President who appointed the first-ever Native American cabinet member last year and who halted the building of the Keystone pipeline across Native lands. Surely Mr. Biden is capable of an urgent act of compassion for Leonard Peltier — especially considering that the prosecutor who put him away in 1977 now says Peltier is innocent, and that his US Attorney's office corrupted the evidence to make sure Peltier didn't get a fair trial. Why is this victim of our judicial system still in prison? And now he is sick with Covid.
For months Peltier has begged to get a Covid booster shot. Prison officials refused. The fact that he now has COVID-19 is a form of torture. A shame hangs over all of us. Should he now die, are we all not complicit in taking his life?
President Biden, let Leonard Peltier go. This is a gross injustice. You can end it. Reach deep into your Catholic faith, read what the Pope has begged you to do, and then do the right thing.
For those of you reading this, will you join me right now in appealing to President Biden to free Leonard Peltier? His health is in deep decline, he is the voice of his people — a people we owe so much to for massacring and imprisoning them for hundreds of years.
The way we do mass incarceration in the US is abominable. And Leonard Peltier is not the only political prisoner we have locked up. We have millions of Black and brown and poor people tonight in prison or on parole and probation — in large part because they are Black and brown and poor. THAT is a political act on our part. Corporate criminals and Trump run free. The damage they have done to so many Americans and people around the world must be dealt with.
This larger issue is one we MUST take on. For today, please join me in contacting the following to show them how many millions of us demand that Leonard Peltier has suffered enough and should be free:
President Joe Biden
Phone: 202-456-1111
E-mail: At this link
https://www.whitehouse.gov/contact/
Secretary of the Interior Deb Haaland
Phone: 202-208-3100
E-mail: feedback@ios.doi.gov
Attorney General Merrick Garland
Phone: 202-514-2000
E-mail: At this link
https://www.justice.gov/doj/webform/your-message-department-justice
I'll end with the final verse from the epic poem "American Names" by Stephen Vincent Benet:
I shall not rest quiet in Montparnasse.
I shall not lie easy at Winchelsea.
You may bury my body in Sussex grass,
You may bury my tongue at Champmedy.
I shall not be there. I shall rise and pass.
Bury my heart at Wounded Knee.
PS. Also — watch the brilliant 1992 documentary by Michael Apted and Robert Redford about the framing of Leonard Peltier— "Incident at Oglala"




*---------*---------*---------*---------*---------*---------*
*---------*---------*---------*---------*---------*---------*
Union Membership—2021
Bureau of Labor Statistics
U.S. Department of Labor
For release 10:00 a.m. (ET) Thursday, January 20, 2022
Technical information:
(202) 691-6378 • cpsinfo@bls.gov • www.bls.gov/cps
Media contact:
(202) 691-5902 • PressOffice@bls.gov
In 2021, the number of wage and salary workers belonging to unions continued to decline (-241,000) to 14.0 million, and the percent who were members of unions—the union membership rate—was 10.3 percent, the U.S. Bureau of Labor Statistics reported today. The rate is down from 10.8 percent in 2020—when the rate increased due to a disproportionately large decline in the total number of nonunion workers compared with the decline in the number of union members. The 2021 unionization rate is the same as the 2019 rate of 10.3 percent. In 1983, the first year for which comparable union data are available, the union membership rate was 20.1 percent and there were 17.7 million union workers.

These data on union membership are collected as part of the Current Population Survey (CPS), a monthly sample survey of about 60,000 eligible households that obtains information on employment and unemployment among the nation's civilian noninstitutional population age 16 and over. For further information, see the Technical Note in this news release.
Highlights from the 2021 data:
• The union membership rate of public-sector workers (33.9 percent) continued to be more than five times higher than the rate of private-sector workers (6.1 percent). (See table 3.)

• The highest unionization rates were among workers in education, training, and library occupations (34.6 percent) and protective service occupations (33.3 percent). (See table 3.)

• Men continued to have a higher union membership rate (10.6 percent) than women (9.9 percent). The gap between union membership rates for men and women has narrowed considerably since 1983 (the earliest year for which comparable data are available), when rates for men and women were 24.7 percent and 14.6 percent, respectively. (See table 1.)

• Black workers remained more likely to be union members than White, Asian, or Hispanic workers. (See table 1.)

• Nonunion workers had median weekly earnings that were 83 percent of earnings for workers who were union members ($975 versus $1,169). (The comparisons of earnings in this news release are on a broad level and do not control for many factors that can be important in explaining earnings differences.) (See table 2.)

• Among states, Hawaii and New York continued to have the highest union membership rates (22.4 percent and 22.2 percent, respectively), while South Carolina and North Carolina continued to have the lowest (1.7 percent and 2.6 percent, respectively). (See table 5.)
Industry and Occupation of Union Members
In 2021, 7.0 million employees in the public sector belonged to unions, the same as in the private sector. (See table 3.)

Union membership decreased by 191,000 over the year in the public sector. The public-sector union membership rate declined by 0.9 percentage point in 2021 to 33.9 percent, following an increase of 1.2 percentage points in 2020. In 2021, the union membership rate continued to be highest in local government (40.2 percent), which employs many workers in heavily unionized occupations, such as police officers, firefighters, and teachers.

The number of union workers employed in the private sector changed little over the year. However, the number of private-sector nonunion workers increased in 2021. The private-sector unionization rate declined by 0.2 percentage point in 2021 to 6.1 percent, slightly lower than its 2019 rate of 6.2 percent. Industries with high unionization rates included utilities (19.7 percent), motion pictures and sound recording industries (17.3 percent), and transportation and warehousing (14.7 percent). Low unionization rates occurred in finance (1.2 percent), professional and technical services (1.2 percent), food services and drinking places (1.2 percent), and insurance (1.5 percent).

Among occupational groups, the highest unionization rates in 2021 were in education, training, and library occupations (34.6 percent) and protective service occupations (33.3 percent). Unionization rates were lowest in food preparation and serving related occupations (3.1 percent); sales and related occupations (3.3 percent); computer and mathematical occupations (3.7 percent); personal care and service occupations (3.9 percent); and farming, fishing, and forestry occupations (4.0 percent).
Selected Characteristics of Union Members
In 2021, the number of men who were union members, at 7.5 million, changed little, while the number of women who were union members declined by 182,000 to 6.5 million. The unionization rate for men decreased by 0.4 percentage point over the year to 10.6 percent. In 2021, women's union membership rate declined by 0.6 percentage point to 9.9 percent. The 2021 decreases in union membership rates for men and women reflect increases in the total number of nonunion workers. The rate for men is below the 2019 rate (10.8 percent), while the rate for women is above the 2019 rate (9.7 percent). (See table 1.)

Among major race and ethnicity groups, Black workers continued to have a higher union membership rate in 2021 (11.5 percent) than White workers (10.3 percent), Asian workers (7.7 percent), and Hispanic workers (9.0 percent). The union membership rate declined by 0.4 percentage point for White workers, by 0.8 percentage point for Black workers, by 1.2 percentage points for Asian workers, and by 0.8 percentage point for Hispanic workers. The 2021 rates for Whites, Blacks, and Hispanics are little or no different from 2019, while the rate for Asians is lower.

By age, workers ages 45 to 54 had the highest union membership rate in 2021, at 13.1 percent. Younger workers—those ages 16 to 24—had the lowest union membership rate, at 4.2 percent.

In 2021, the union membership rate for full-time workers (11.1 percent) continued to be considerably higher than that for part-time workers (6.1 percent).
Union Representation
In 2021, 15.8 million wage and salary workers were represented by a union, 137,000 less than in 2020. The percentage of workers represented by a union was 11.6 percent, down by 0.5 percentage point from 2020 but the same as in 2019. Workers represented by a union include both union members (14.0 million) and workers who report no union affiliation but whose jobs are covered by a union contract (1.8 million). (See table 1.)
Earnings
Among full-time wage and salary workers, union members had median usual weekly earnings of $1,169 in 2021, while those who were not union members had median weekly earnings of $975. In addition to coverage by a collective bargaining agreement, these earnings differences reflect a variety of influences, including variations in the distributions of union members and nonunion employees by occupation, industry, age, firm size, or geographic region. (See tables 2 and 4.)
Union Membership by State
In 2021, 30 states and the District of Columbia had union membership rates below that of the U.S. average, 10.3 percent, while 20 states had rates above it. All states in both the East South Central and West South Central divisions had union membership rates below the national average, while all states in both the Middle Atlantic and Pacific divisions had rates above it. (See table 5 and chart 1.)

Ten states had union membership rates below 5.0 percent in 2021. South Carolina had the lowest rate (1.7 percent), followed by North Carolina (2.6 percent) and Utah (3.5 percent). Two states had union membership rates over 20.0 percent in 2021: Hawaii (22.4 percent) and New York (22.2 percent).

In 2021, about 30 percent of the 14.0 million union members lived in just two states (California at 2.5 million and New York at 1.7 million). However, these states accounted for about 17 percent of wage and salary employment nationally.
Coronavirus (COVID-19) Pandemic Impact on 2021 Union Members Data
Union membership data for 2021 continue to reflect the impact on the labor market of the coronavirus (COVID-19) pandemic. Comparisons with union membership measures for 2020, including metrics such as the union membership rate and median usual weekly earnings, should be interpreted with caution. The onset of the pandemic in 2020 led to an increase in the unionization rate due to a disproportionately large decline in the number of nonunion workers compared with the decline in the number of union members. The decrease in the rate in 2021 reflects a large gain in the number of nonunion workers and a decrease in the number of union workers. More information on labor market developments in recent months is available at:

www.bls.gov/covid19/effects-of-covid-19-pandemic-and- response-on-the-employment-situation-news-release.htm.


*---------*---------*---------*---------*---------*---------*
*---------*---------*---------*---------*---------*---------*
Resources for Resisting Federal Repression
Since June of 2020, activists have been subjected to an increasingly aggressive crackdown on protests by federal law enforcement. The federal response to the movement for Black Lives has included federal criminal charges for activists, door knocks by federal law enforcement agents, and increased use of federal troops to violently police protests.
The NLG National Office is releasing this resource page for activists who are resisting federal repression. It includes a link to our emergency hotline numbers, as well as our library of Know-Your-Rights materials, our recent federal repression webinar, and a list of some of our recommended resources for activists. We will continue to update this page.
Please visit the NLG Mass Defense Program page for general protest-related legal support hotlines run by NLG chapters.
Emergency Hotlines
If you are contacted by federal law enforcement you should exercise all of your rights. It is always advisable to speak to an attorney before responding to federal authorities.
State and Local Hotlines
If you have been contacted by the FBI or other federal law enforcement, in one of the following areas, you may be able to get help or information from one of these local NLG hotlines for:
National Hotline
If you are located in an area with no hotline, you can call the following number:
Know Your Rights Materials
The NLG maintains a library of basic Know-Your-Rights guides.
WEBINAR: Federal Repression of Activists & Their Lawyers: Legal & Ethical Strategies to Defend Our Movements: presented by NLG-NYC and NLG National Office
We also recommend the following resources:
Katya Komisaruk
*---------*---------*---------*---------*---------*---------*


*---------*---------*---------*---------*---------*---------*
*---------*---------*---------*---------*---------*---------*
*---------*---------*---------*---------*---------*---------*
1)
Should We Be Forced to See Exactly What an AR-15 Does to a 10-Year-Old?
By Susie Linfield, May 31, 2022
Ms. Linfield is a journalism professor and the author of "The Cruel Radiance: Photography and Political Violence."
https://www.nytimes.com/2022/05/31/opinion/uvalde-shooting-photos.html
Mark Peterson for The New York Times
I know that stoning people to death is barbaric. But I never understood just what it entails — the slow, cruel process by which a defenseless human being is degraded and destroyed — until I saw a series of photographs taken by Somali photojournalist Farah Abdi Warsameh, which depict the stoning execution of a man accused of adultery by the insurgent group Hizbul Islam. While some charge that viewing such pictures is voyeuristic, these images made me face the terror, the blood and the sheer cruelty of this practice — one that, astonishingly, has not yet been tossed into the dustbin of history.
Photographic images can bring us close to the experience of suffering — and, in particular, to the physical torment that violence creates — in ways that words do not. What does the destruction of a human being, of a human body — frail and vulnerable (all human bodies are frail and vulnerable) — look like? What can we know of another's suffering? Is such knowledge forbidden — or, alternately, necessary? And if we obtain it, what then?
These are questions that are being raised in the wake of last week's mass shooting of 19 children and two adults in Uvalde, Texas, which has plunged much of the country into an abyss of sorrow, rage and despair. On social media and in the press, some, including the former homeland security chief Jeh Johnson, have suggested that photographs of the slaughtered children, whose faces and bodies were apparently mutilated beyond recognition, be released to the public in hopes of garnering support for gun control legislation.
Mr. Johnson called this an "Emmett Till moment," alluding to a photograph of the 14-year-old Black boy who was tortured and murdered by white racists in Mississippi in 1955. His mother had insisted on an open casket: Let the world — make the world — see what her son's tormentors had done. And the world did: The photograph of Till taken by Jet magazine was reproduced throughout the country and abroad and helped invigorate the civil rights movement.
The question of how much violence we should see, and to what end, is almost as old as photography itself. But the question gains urgency in our age of unfiltered immediacy — of the 24-hour news cycle, of Instagram and Twitter, of jihadi beheading videos, of fake news and conspiracy theorists and of repellent sites like BestGore, which revel in sadistic carnage. What responsibilities does the act of seeing entail? Is the viewing of violence an indefensible form of collaboration with it? Is the refusal to view violence an indefensible form of denial?
In the case of Uvalde, a serious case can be made — indeed, I agree with it — that the nation should see exactly how an assault rifle pulverizes the body of a 10-year-old, just as we needed to see (but rarely did) the injuries to our troops in the Iraq and Afghanistan wars. A violent society ought, at the very least, to regard its handiwork, however ugly, whether it be the toll on the men and women who fight in our name, on ordinary crime victims killed or wounded by guns or on children whose right to grow up has been sacrificed to the right to bear arms.
But seeing and doing are not the same, nor should they be. Images are slippery things, and it is both naïve and arrogant to assume that an image will be interpreted in only one way (that is, yours) and that it will lead to direct political change (the kind you support). Anti-abortion activists frequently wave images of fetuses at their rallies; these photos denote, to them, a nascent human being in need of protection. To abortion rights advocates, the image is sentimental, manipulative and, frankly, disgusting.
After the Sandy Hook massacre, Michael Moore wrote that he hoped photographs of the dead children would be leaked, perhaps by a grieving parent. If so, "the jig will be up" for the National Rifle Association, he confidently predicted. "The debate on gun control will come to an end. There will be nothing left to argue over."
This is childish thinking. Photographs tend to start arguments, not end them. And Mr. Moore could not have been more mistaken about the desires of the Sandy Hook parents. Partly in response, some of them pushed, successfully, for the passage of SB 1149, a Connecticut law that prohibits the disclosure of photographs and digital images of homicide victims. This raises another unresolved but increasingly exigent question: Do such photographs belong to the police, the F.B.I., the parents or the public? How to balance a family's right to privacy with the public's right to know?
There are many examples of photographs that gave history a nudge — sometimes even a vigorous one. Think of the My Lai massacre photographs, of the Abu Ghraib torture photos taken by American troops and of Darnella Frazier's phone video of George Floyd's murder. But just as the Till photograph didn't end Jim Crow, the My Lai images didn't end the Vietnam War (nor did press reports of the atrocity), the Abu Ghraib photographs didn't end the Iraq war (or even lead to high-level prosecutions), and the Floyd video didn't end police brutality. These photographs did support, encourage and strengthen public perceptions, political movements and public debates that were already in play. But none resulted in the kinds of immediate change that their supporters hoped for. When it comes to images, there are few Damascene moments, which is why most photojournalists are modest, if not pessimistic, about the influence of their work.
And viewers who look to photographs to effect political change should be careful what they wish for: Formulating political decisions on the basis of images can be treacherous. Photographs of skeletal Somalis dying of hunger — those by James Nachtwey are particularly brutal — were one of the key inspirations for the U.S.-United Nations intervention in Somalia in late 1992; less than one year later, Paul Watson's horrific photograph of a gleeful crowd dragging an American soldier's naked corpse contributed to our hasty retreat. (The Somali debacle was a major reason for the Clinton administration's refusal to respond to the Rwandan genocide the following year.)
In 2004, Khalid Mohammed's photograph of Iraqis in Falluja celebrating beneath the burned, mutilated bodies of American contractors hanging from a bridge resulted in what might be called the anti-Somalia effect: Rather than force a U.S. withdrawal, as some in the crowd had apparently hoped, the image encouraged an embarrassed President George W. Bush to order the Marine invasion of the city and intensify the war. The resulting battle was one of the longest and deadliest of the conflict. In its aftermath, one newspaper described Falluja as a "city of ghosts."
The most vexing political conflicts are the most resistant to photographic interventions — as the Syrian civil war, now in its 11th year, shows. Nilufer Demir's internationally disseminated photographs of little Aylan Kurdi, a drowned Syrian refugee who washed up on the shores of a Turkish beach, inspired fervent responses of outrage and promises of action in 2015. But outrage proved easier than action, and the plight of Syrian refugees remained pretty much the same.
And one might well wonder why the so-called Caesar images — a trove of 55,000 photographs depicting Syrians tortured to death in the prisons of President Bashar al-Assad — had zero political effect. The photographs, which were smuggled out of Syria in 2013 and depict victims of eye gouging, strangulation and starvation, were shown to the U.S. Congress, at the United Nations and to the secretary of state at the time, John Kerry, as well as to other world leaders. Geoffrey Nice, a war crimes prosecutor, described them as akin to "getting the keys to the Nazi archive." However, as this newspaper reported, "Syrian's Photos Spur Outrage, but Not Action."
In the case of Uvalde, all of this remains, for the most part, theoretical. It is highly unlikely that the grieving parents would ever consent to the publication of images of their children and equally hard to imagine that the pictures would not circulate on sites that would dishonor, if not defile, the victims. Images of dead children, after all, are different from all others. Children represent both innocence and promise — represent, in fact, our belief in the future. To see them violated elicits instinctual reactions of pity, anger, grief and shame. The question, though, is what we do with that vortex of emotions once it has been unleashed.
Despite the very real dangers of exploitation and misuse that disclosure of the Uvalde photographs would pose, I myself would like politicians to view them: to look — really look — at the shattered face of what was previously a child and to then contemplate the bewildered terror of her last moments on earth. But that would not mean that the jig is up. People, not photographs, create political change, which is slow, difficult and unpredictable. Don't ask images to think, or to act, for you.


*---------*---------*---------*---------*---------*---------*
*---------*---------*---------*---------*---------*---------*
2)
I Created the F.B.I.'s Active Shooter Program. The Officers in Uvalde Did Not Follow Their Training.
By Katherine Schweit, May 30, 2022
Ms. Schweit, an F.B.I. special agent who retired in 2017 after 20 years, created and ran the agency's active shooter program after the shootings at Sandy Hook Elementary School in 2012. She is the author of "Stop the Killing."
"But if the 78 minutes that the police in Uvalde waited before confronting the gunman at Robb Elementary are any indication, the answer is: We aren't. Waiting so long, the director of the Texas Department of Public Safety said Friday, 'was the wrong decision. Period.'"
https://www.nytimes.com/2022/05/30/opinion/uvalde-school-shooting.html
Children running to safety after escaping through a window during the mass shooting at Robb Elementary School in Uvalde, Texas, on May 24. Credit...Pete Luna/Uvalde Leader-News, via Reuters
After watching the tragedy at Robb Elementary School in Uvalde, Texas, unfold after so many other shootings in recent weeks, I'm wondering what I might have missed when I was asked to start the F.B.I.'s active shooter program 10 years ago. Did I have my team focus on the wrong problems? Did I spend my budget wisely to find ways to save lives?
Every shooting is evaluated in three parts: How could we have prevented the shooting? Did we respond effectively to save lives? How are we helping the community recover? Last Monday, the F.B.I. designated 61 shootings in 2021 as active shooter attacks, up from 40 in 2020 and 30 in 2019. We aren't preventing the shootings, I realized. Perhaps, I thought, we were doing better in responding to the attacks as they unfolded.
But if the 78 minutes that the police in Uvalde waited before confronting the gunman at Robb Elementary are any indication, the answer is: We aren't. Waiting so long, the director of the Texas Department of Public Safety said Friday, "was the wrong decision. Period."
So why did the police leadership make that call?
In the first few years after the massacre at Sandy Hook Elementary School in December 2012, the F.B.I. spent more than $30 million to send agents to police departments around the country. The goal was to train local officers how to handle active shooters so they would know how to go after a shooter with confidence and neutralize the threat.
The day after the F.B.I. released its latest active shooter figures, Robb Elementary School was attacked. In the past two years, the Uvalde school district has hosted at least two active shooter trainings, according to reporting by The Times. One of them was two months ago. Current protocol and best practices say officers must persistently pursue efforts to neutralize a shooter when a shooting is underway. This is true even if only one officer is present. This is without question the right approach.
We need to understand why that protocol was not followed in Uvalde. I am still confident the F.B.I.'s focus on training to this standard was right, but I'm less confident in its execution. The officers who responded may have been unprepared for conflict, which can lead to fatal results. Law enforcement officers need to be mentally prepared before they arrive on the scene, so they can respond immediately.
Repetitive training builds practice and confidence. Big gatherings for training every few years are more expensive and less effective for muscle memory. Instead, departments should consider more virtual tabletop exercises they can run through in an afternoon. Have officers walk through schools and talk with one another about how they would respond. Require officers to check all their gear before they begin a shift.
Last year, active shooters killed 103 people and injured 140 others in 30 states. Five of those attacks were in Texas. Most of our more than 800,000 law enforcement officers in the United States are in small departments. This is not the first time a law enforcement agency has failed in the way it responded. At times, training can become routine and be taken less seriously in any environment, but agencies should be careful to avoid complacency. Are they undertaking the training to check a box? Police department leaders need to tell their officers today what is expected of them and to understand that Americans demand it.
We also need to re-evaluate how we advise students and teachers to react when an active shooter enters a school. After Sandy Hook the federal government adopted the run, hide, fight model, which instructs students and teachers to run first if they can, then hide if they must and, finally, fight to survive.
Today schools, at best, are giving lip service to the first part of that mantra, to run. Most schools that train for a shooting urge students, teachers and other staff members to lock out or hide from a shooter but almost never to run for their lives if they can. My friend Frank DeAngelis, a retired principal of Columbine High School in Colorado, told me he wished his students and faculty had been taught to flee. At Sandy Hook, nine first graders survived when they were able to flee their classroom, thanks to their brave teacher Victoria Leigh Soto, who was shot and killed when she stood in front of the killer.
I still have nightmares about details from school shootings in which survivors told me they huddled under their desks, hoping against logic that the shooter would not see them. It's hard to shed the images of victims' bodies found huddled under plastic tables, behind cloth partitions or together in a group against a wall.
I remember telling my children that if someone approached them in a car while they were walking, they should run as fast and as far as possible. Yet in many school settings we have mistakenly discouraged students from trying their best to simply stay alive.
Now my youngest child is a teacher whose middle school classroom is near the end of a hall with a side door to the outside. The classrooms are filled with desks. She knows that killers who strike schools will take advantage of opportunities to find more victims. I share my daughter's experience not to invite criticism of the actions of educators responding to lethal situations but to underscore how vital proper training is to the survival of teachers and their students.
We're told the best way to learn is from the mistakes we make. According to data from the F.B.I., in recent years the average number of casualties per active shooter attack has declined even as the number of attacks has increased. I think this reflects better policing and improved public awareness.
Still, police will not likely be there in the critical first minutes of an attack on a school. In the aftermath of the wrenching tragedy in Uvalde, it's clear that, nearly 10 years after Sandy Hook, we must ask ourselves if the training designed to safeguard us against killers in our schools is the training that is working.
*---------*---------*---------*---------*---------*---------*
*---------*---------*---------*---------*---------*---------*
3)
America's Human Sacrifices
By Maureen Dowd, May 28, 2022
https://www.nytimes.com/2022/05/28/opinion/americas-human-sacrifices.html?action=click&module=Well&pgtype=Homepage&section=Sunday%20Review%20%20Opinion
Gabriella Uriegas, a soccer teammate of Tess Mata, who died in the shooting, cried at a makeshift memorial outside the Uvalde County Courthouse on Thursday. Credit...Chandan Khanna/Agence France-Presse — Getty Images
WASHINGTON — Once, when I thought of child sacrifice, I thought of ancient shibboleths.
In Aeschylus, Agamemnon lures his daughter Iphigenia to a spot she thinks is for her wedding, as the chorus urges: "Hoist her over the altar like a yearling, give it all your strength … gag her hard." Agamemnon agonized but felt he had to sacrifice his daughter to appease a goddess and be granted favorable winds to sail against Troy. Small sacrifice to get your fleet moving.
In Shakespeare, Titus Andronicus kills his daughter, Lavinia, at the dinner table, after she has been raped and maimed by attackers. "Die, die, Lavinia!" he cries. "And thy shame with thee." Small sacrifice to save your honor.
On "Game of Thrones," Stannis Baratheon orders his sweet child Shireen burned at the stake, as she cries out for the father she adores, so black magic will melt the snows. Small sacrifice to get your starving army on the march.
Now, however, I think of child sacrifice as a modern phenomenon, a barbaric one that defines this country. We are sacrificing children, not only the ones who die, but also those who watch and those who fear the future.
Children having their tomorrows taken away. Small sacrifice if we can keep our guns. Why not let every deranged loner buy an assault weapon?
America is not a mythical kingdom ruled by fickle gods or black magic. Our fate is not in the stars. It is in ourselves. It is within our power to stop schools from becoming killing fields.
We have simply decided not to do it.
The shooter in Uvalde slipped into a fourth-grade classroom at Robb Elementary School, ominously announced, "Look what we have here" and fired more than 100 rounds.
The local police did nothing to stop the human sacrifice. Nineteen officers loitered in the hall for as long as 78 minutes as children died. How can you justify keeping assault weapons on the open market when police officers don't engage with them, even with kids' lives on the line?
As the officers waited, not bothering to break down a barricaded door, the 19 lambs went to slaughter, trapped in a blood-soaked classroom with an 18-year-old madman. In a haunting tableau, one little girl smeared herself with her dead friend's blood to appear dead. Meanwhile, desperate parents tried to climb over a chain-link fence to save their children. The police, doing nothing more useful, kept busy by handcuffing at least one parent trying to get into the school.
A slain teacher's husband died of a heart attack after he took flowers to her memorial at the school. They had four kids. Who will take care of them?
Gov. Greg Abbott of Texas coldly said of the massacre, the sixth mass shooting in his seven years in office, "It could have been worse." Donald Trump, who once told me if he was elected president, he would get in his limo and drive down to the National Rifle Association and bargain with it until he could get agreement to some common-sense solutions, spoke to the N.R.A. convention in Houston Friday evening and spouted gun lobby talking points — small price for the tens of millions it spent to get him elected. What a sociopathic jellyfish. It was sacrilege for him to make it seem as though the N.R.A. cared by reading the names of the dead children and teachers, with a bell gonging after each name.
What is wrong with this country? Republicans think they're showing their toughness by preventing curbs on guns. But it's a huge American weakness.
When a gunman killed 35 people in Tasmania in 1996, the Australian government passed such common-sense gun laws six months later that there has been only one mass shooting since. More than a million firearms were destroyed.
When an anti-Islamic extremist in Christchurch killed 51 people in two mosques in 2019, the New Zealand government banned most semiautomatic weapons 26 days later. There have been no mass shootings since.
As the inspiring New Zealand prime minister, Jacinda Ardern, said at the time, she could not have faced the surviving victims and told them, "Our system and our laws allow these guns to be available, and that is OK."
The political debates here are empty and soulless, with Democrats dodging the issue and Republicans hardening even on mild proposals like requiring universal background checks, which has overwhelming public approval.
"Most Republicans in the Senate represent deeply conservative states where gun ownership is treated as a sacred privilege enshrined in the Constitution, a privilege not to be infringed upon, no matter how much blood is spilled in classrooms and school hallways around the country," Carl Hulse wrote in The Times.
Republicans throw up a fog of nonsensical suggestions. Before speaking to the N.R.A. on Friday, Ted Cruz said schools should have only one entry point, with an armed guard. Guns don't kill people. Doors do. During his speech at the N.R.A., Trump suggested turning schools into virtual jails and letting teachers pack pistols in class.
"Meaningful policy discussions over guns or voting or public health have left the room," said my colleague Elizabeth Williamson, the author of the new book "Sandy Hook: An American Tragedy and the Battle for Truth." "Spewing conspiracy theories and bench-clearing nonsense around mass shootings, elections and coronavirus is becoming a tribal signifier for some on the right."
The Republicans are doing everything they can to stop women from having control over their own bodies and doing nothing to stop the carnage against kids; they may as well change the party symbol from an elephant to an AR-15.
America is stuck in a loop on guns — and it's a fatal one. This country always cherished its frontier image, Gary Cooper in "High Noon," shooting it out with the bad guys. But now when the bad guys start shooting, lawmakers just shrug.
We've become a country of cowards, so terrified of the unholy power of gun worship that no sacrifice of young blood is too great to appease it.
*---------*---------*---------*---------*---------*---------*
*---------*---------*---------*---------*---------*---------*
4)
Impact of Israeli Strike in Gaza Akin to Chemical Weapons, NGO Report Finds
By Bethan McKernan in Jerusalem and Hazem Balousha in Gaza City, May 30, 2022
https://www.theguardian.com/world/2022/may/30/impact-of-israeli-strike-in-gaza-akin-to-chemical-weapons-ngo-report-finds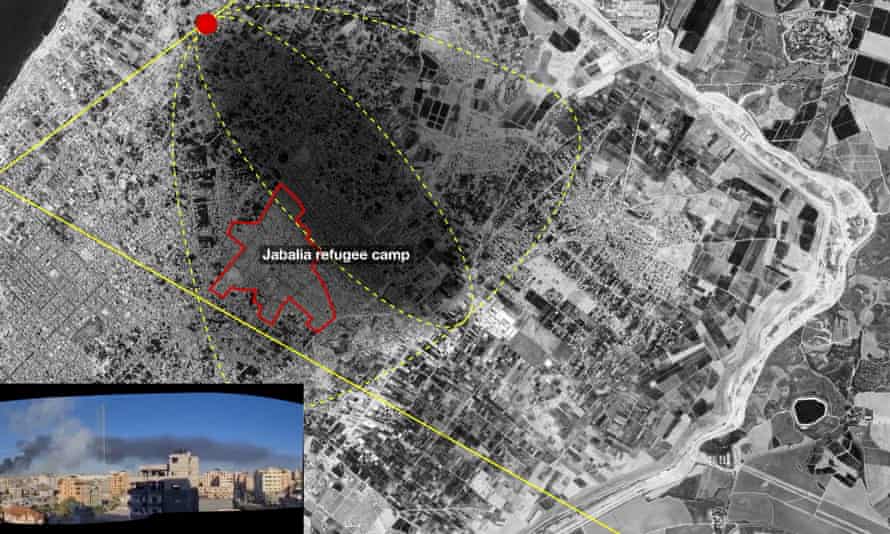 Within the first hour, the toxic plume from Khudair warehouse had affected an area of approximately 5.7 sq km, with 3,000 homes in its shadow. Photograph: Al-Haq and Forensic Architecture
An Israeli airstrike on an agrochemical warehouse during last year's war in Gaza amounted to the "indirect deploying of chemical weapons", according to a report analysing the attack and its impact.
Incendiary artillery shells fired by the Israel Defence Forces (IDF) hit the large Khudair Pharmaceutical and Agricultural Tools warehouse in the north of the Gaza Strip on 15 May last year, setting fire to hundreds of tonnes of pesticides, fertilisers, plastics and nylons. The strike created a toxic plume, which engulfed an area of 5.7 sq km and has left local residents struggling with health issues, including two reports of miscarriages, and indications of environmental damage.
The extensive investigation, which involved analysing mobile phone and drone footage and CCTV, dozens of interviews with residents, and analysis from munitions and fluid dynamics experts, used 3D modelling of the warehouse to determine the circumstances of the attack.
It is the first publication by Palestinian human rights NGO Al-Haq's newly established forensic architecture investigation unit, a first-of-its-kind collaboration in the Middle East with Forensic Architecture, a research agency based at Goldsmiths, University of London, which carries out spatial and media analysis for NGOs and in international human rights cases.
Legal experts concluded from Al-Haq's findings that while conventional weapons were used in the bombing, "the shelling of the warehouse, with knowledge of the presence of toxic chemicals stored therein, is tantamount to chemical weapons through indirect means. Such acts are clearly prohibited … and prosecutable under the Rome Statute of the international criminal court".
Chris Cobb-Smith, a munitions expert, is quoted as saying: "There is no military justification for [advanced smoke projectiles] to be used here. It is inherently inaccurate and unsuitable for use in an urban environment."
Two hundred and fifty six people in Gaza and 14 in Israel died in the 11-day war last May between Israel and Hamas, the Palestinian militant group that controls the besieged strip. Al-Haq said the strike on the Khudair warehouse was the first in a series of attacks deliberately targeting Gaza's economic and industrial infrastructure, with half a dozen other factories and warehouses systematically bombed.
The international criminal court (ICC) opened an investigation in 2019 into war crimes allegedly committed by Israeli forces and Palestinian militants in Palestinian territory. Israel disputes the ICC's jurisdiction.
The IDF said in a statement that in response to the onslaught of attacks by Hamas, Israel had "carried out a series of strikes on legitimate military targets in the Gaza Strip" last year during what in Israel is known as Operation Guardian of the Walls.
"The IDF takes all possible precautions to avoid harming civilians during operational activity," a spokesperson said, adding that "the event in question" was being investigated by an internal IDF inquiry "to examine whether there were any deviations from the binding rules and make necessary adjustments based on lessons learned".
Israa Khudair, 20, who lives with her husband and two children 40 metres away from the site of the agrochemical warehouse, suffered a miscarriage in the fifth month of her pregnancy, eight weeks after the attack.
"For months the smell was unbearable, like a car engine mixed with burnt oil, sewage and cooking gas, so of course we knew it could be harmful," said her husband, Ihab, 26.
"I have had skin rashes since and so have most people here. We washed the house five times, and the furniture, but the smell stayed. It was like an oil on the walls … eventually in the winter the rain washed a lot of it away from the rubble of the warehouse.
"We are worried for our health now. One of my cousins, who is only 19, and my aunt also, got cancer recently and we think it is related to what happened here."
Last year's fighting was the third round of full-scale conflict between the Israeli state and Hamas since the group seized control of Gaza in 2007, after which Israel and Egypt imposed a punishing blockade. Since then, the strip's water, sewage and electricity infrastructure have all but collapsed, leaving Gaza's 2 million residents struggling to deal with increasing levels of air, soil and water pollution.
Al-Haq, which operates in Gaza and the West Bank, has also come under attack from the Israeli authorities: last year, the NGO was one of six leading civil society and human rights organisations working in the occupied Palestinian territories designated as a terrorist organisation. The decision has been widely condemned by the UN, western governments and prominent international organisations such as Amnesty International.
Rula Shadeed, the head of Al-Haq's monitoring and documentation department, said in a statement: "Without our professional documentation based on legal standards [Palestinians] cannot call for accountability and justice. Introducing new methodologies to enhance and complement the standard documentation and presentation of our work is very crucial.
"We are very proud that despite the illegal attacks and difficult times Palestinian civil society is facing, we still manage to continue and advance in our work, due to our strong belief in the importance of exposing the violations against our people and to hold perpetrators accountable."


*---------*---------*---------*---------*---------*---------*
*---------*---------*---------*---------*---------*---------*
5)
What to Do About Americans Who Love Their Guns
By Pamela Paul, June 1, 2022
https://www.nytimes.com/2022/06/01/opinion/anti-gun-ad-campaign.html
Mark Peterson for The New York Times
Coming of age in the 1970s and '80s, a kid took in a fair number of public service messages. Smokey Bear warned that only you could help prevent forest fires (if only this were entirely true). An actor dressed up as a Native American shed a single tear to get people to stop littering (or at least feel guilty when they did). The crash-test dummies made anyone bypassing a seatbelt look like a moron. Later campaigns against smoking, like the one featuring the singing cowboy, terrified many teenagers out of lighting their first cigarette.
Obviously, not everyone transformed into responsible citizens while imbibing these messages between doses of Sugar Pops and "Scooby-Doo." If nothing else, "Schoolhouse Rock," which similarly set forth principles around when to dump tea and reject kings, let us know that real change often required the passage of laws, and that's not easy, as the oft-demoralized hero of "I'm Just a Bill" was known to wail. But simple messages stick, and when done well — particularly when lives are at stake — have proven highly effective.
Here's how to start changing people's minds about guns.
The disquieting fact remains that a staggering number of Americans clearly want — even love — to own guns: Not only does this country have more guns than people, but over the last 30 years, Americans have grown less supportive of stricter gun laws. Astonishingly, in 1959, 60 percent of Americans favored a ban on handguns except those used by police officers and other authorized persons; today that figure is 19 percent.
The tragedy in Uvalde, Texas, points once again to the senselessness of this love affair.
Unfortunately, the most needed and most effective measures — repealing the Second Amendment, getting the Supreme Court to apply its supposed strict constructionism to the phrase "well regulated militia," state laws regulating production and sales — have been stymied.
Given the lack of will, the half-measures and the overall inaction on controlling supply, we could make a serious effort to lower demand. Bearing in mind that the killers in Texas and Buffalo were both only 18, we could try to get through to the next generation. On average, men who grew up in gun-owning households and who have shot a gun report firing their first gun as at age 12, while women reported doing so at age 17. The gun industry spends an enormous amount of money on lobbying and on advertising, too.
We could counter its efforts to sell more guns with a massive public health campaign. Make guns less cool, less acceptable, less a part of the supposedly "American way of life." Scare people. Gross them out. Even try humor.
Colorado took a baby step in the right direction with a public service campaign in 2021 emphasizing gun storage and safety. The goal there, in part, was to lower the appalling rate of teenage suicide, a noble effort, but it works on the assumption of gun ownership as an accepted state of affairs.
What if we got more ambitious with the messaging and went after gun ownership itself? An effective campaign against buying guns could take any number of tacks. It could look at the relentless news footage from the nation's sweep of mass shootings — headlines that are hard to take as they occur but are even more devastating in the aggregate. An effective campaign could movingly tally the killings in a given time period as Gary Younge did in his book "Another Day in the Death of America" or in the vein of Jill Leovy's blog The Homicide Report, which attempted to track every murder in Los Angeles County in a year. Or it could go personal, using a testimonial from a child who lost his sister in a school shooting or a teenager whose friend committed suicide at 14 using a weapon kept in the house by his own parents.
Before you shut this down as Tipper Gore territory or just say no to Nancy Reagan 2.0, consider the effect of other big public service campaigns, which are especially successful when it's clear the message comes down to saving lives. Between the start of the seatbelt campaign and the early 2000s, one report found, usage rose from 14 percent to 80 percent, saving thousands of lives. The rate of drunken driving fatalities has continued to decline since the "Friends Don't Let Friends Drive Drunk" campaign that began in 1983. One of the key components of Mothers Against Drunk Driving was its efforts to combat social norms.
Public education and creative P.S.A.s helped reduce teenage cigarette use significantly. While in the pocket of the tobacco industry, Hollywood played a key role in glamorizing smoking, but then later, after paid tobacco product placement was banned, clamped down on the appearance of smoking on film and TV. Those efforts are ongoing.
Sometimes, of course, a cigarette, like a gun, is key to a movie's story line or characters. But the use of firearms onscreen can certainly be more intentional. Reaching for the gun in the course of storytelling isn't always necessary. The best cinematic fight scene by far this year involved a weaponized fanny pack.
A forceful campaign could run ads during major events like the Super Bowl and the Oscars. And a savvy one could find teenagers not only on the big screen and in the classroom (where some Texas textbooks gloss over the Second Amendment), but also on platforms like TikTok and Discord. Through technology and schools, it could bring kids into creating and disseminating the message.
Trying to shift the consumer mind-set and public attitudes around guns is a challenge given how hardened gun culture is. It might move the needle only incrementally. But given the pain and loss guns are already inflicting on this country, would it hurt so much to try?


*---------*---------*---------*---------*---------*---------*
*---------*---------*---------*---------*---------*---------*
6)
When Elon Musk Dreams, His Employees Have Nightmares
By Edward Niedermeyer, June 1, 2022
Mr. Niedermeyer is the author of "Ludicrous: The Unvarnished Story of Tesla Motors" and has interviewed over 100 former Tesla employees.
https://www.nytimes.com/2022/06/01/opinion/elon-musk-tesla-twitter.html
Chenyue Yuan
Elon Musk's repeated wavering on his deal to buy Twitter has roiled markets and raised fresh questions about his seriousness. His promises to preserve free speech, ban spam bots and dramatically boost revenue may have earned the blessing of the company's founder, Jack Dorsey, but with Twitter's stock falling well below his offer price, Mr. Musk appears to be reneging on a deal that has made even Wall Street grow skeptical.
For those of us who have followed Mr. Musk's antics for some time, the latest twist in his bid for the social media platform is entirely in character. The way that he has managed and marketed his businesses from Tesla's early days reveals a dysfunction behind the automaker's veneer of technofuturism and past stock market successes. Often announcing new features without consultation with his team, he forces his employees to bridge the enormous gap between technological reality and his dreams. This disconnect fosters a negligent and sometimes cruel workplace, to disastrous effect.
In 2016, Mr. Musk promised that newly made Teslas would be able to drive themselves with nothing more than a future software update that Tesla owners could buy in advance for thousands of dollars.
That fully self-driving announcement that so delighted his fans came as a far more jarring revelation to the project's engineers, who found out about their staggering new mission when Mr. Musk tweeted about it. Tesla buyers never got the promised software update. The cars still cannot drive themselves without humans. But every year since then, he has repeated different versions of this claim. His ability to repeatedly sell such science fiction fantasies to a credulous public is the foundation for a vast empire and fortune.
Tesla's manufacturing engineers were aghast when, also in 2016, Mr. Musk publicly committed to developing a fully automated factory that required no human workers. Tesla built two assembly lines that attempted to automate tasks requiring levels of dexterity and flexibility that modern robotics is still far from attaining. He ultimately gave up and cobbled together a manual-labor-intensive production line in an open-air tent.
Mr. Musk took this as a new opportunity to build his legend, and he reported that he had slept in Tesla's factories during this period, which he called "production hell." What he left out of his self-aggrandizing was the reality for his employees. His presence brought no real manufacturing expertise to bear, just the overbearing pressure of a boss whose public shaming was punctuated by declarations like "I can be on my own private island with naked supermodels, drinking mai tais — but I'm not."
In my reporting on Tesla, interviewing employees at times felt more as if I had been a therapist than a journalist, as they sought to untangle the pride and satisfaction they felt about their work from the trauma of working for Mr. Musk. Surviving 10 years of the grind at Tesla is a rare achievement, and it is common for talent to be squeezed dry or pushed out before the end of the company's four-year stock vesting period.
This grim environment is all the more pronounced for women and racial minorities. Lawsuits by workers and California's Department of Fair Employment and Housing allege that Black workers were tasked with menial physical labor in parts of the factory nicknamed "the plantation," where they were subjected to racist slurs and graffiti. Female workers have sued, alleging a pervasive culture of sexual harassment and groping by supervisors. Mr. Musk was indifferent, emailing workers who experienced abuse that "it is important to be thick-skinned."
Mr. Musk's interest lies in supervising entrepreneurial projects that result in flashy new components. In more prosaic areas of the business like manufacturing, service and sales, he tends to get involved only in order to put out the fires that regularly threaten the company's immediate future (though not the literal fires that have repeatedly ravaged its Fremont, Calif., factory over the years).
This is the fundamental weakness of every organization run as a cult of personality: The dear leader can't be everywhere or make every decision but often fails to provide the clear code of values that allows managers to independently shape their decisions around common goals. When the success of the company is tied to one man's whims, you get bizarre phenomena like managers deciding whether or not to take issues to Mr. Musk based on the shade of blond of his wife's hair that day (with platinum shades being correlated with better moods).
When the boss happens to run tunneling, rocket and brain-implant companies in addition to a high-profile car company, even the most brilliant minds will occasionally be too disconnected from the realities of the decisions that they must make. After the collapses of Theranos and WeWork — companies with similarly confident founders who insisted that they would achieve their soaring ambitions if given more time and money — Mr. Musk's reliance on hype is especially jarring.
Indeed, the main difference between Mr. Musk and Silicon Valley's fallen heroes is that he has been able to deliver on some promises: Tesla does make cars, and SpaceX does land rockets. But as a number of old promises like fully self-driving cars appear to be more aspirational and less plausible, the distinction between him and those fallen heroes is starting to lose its meaning. His long list of unfulfilled commitments — a fully solar-powered electric vehicle charging network, a fully automated manufacturing system, an autonomous minibus and even a rocket-powered flying car — wildly exceed his achievements.
By moving to buy Twitter, Mr. Musk has not only added another distraction to his long list but has also already shown the same drive to announce sweeping decisions in public. While he had some success in realizing user features at Tesla, his contradictory goals of increasing algorithmic transparency and eliminating spam bots on Twitter are the most obvious sign that he intends to impose his will on the service without drawing on the expertise of workers who have been wrestling with Twitter's thorniest challenges.
Ultimately Mr. Musk's goals for Twitter, as they are for Tesla, are not about making the right decisions for his companies or the people who make them possible. They are about playing to the crowd and burnishing the legend that keeps fresh bodies and minds moving through the businesses that chew them up and spit them out. Now if Twitter falls into his control, Mr. Musk will have seized the means of making the product he has always cared about most: his own myth making.
*---------*---------*---------*---------*---------*---------*


*---------*---------*---------*---------*---------*---------*
7)
Big Tobacco's Environmental Impact is Devastating
By Nina Larson
—Phys.org, May 31, 2022
https://phys.org/news/2022-05-big-tobacco-environmental-impact-devastating.html
The WHO accused the tobacco industry of various means of environmental damage, from widespread deforestation to spewing out plastic and chemical waste.
The World Health Organization accused the industry of causing widespread deforestation, diverting badly needed land and water in poor countries away from food production, spewing out plastic and chemical waste as well as emitting millions of tonnes of carbon dioxide.
In its report released on World No Tobacco Day, the UN agency called for the tobacco industry to be held to account and foot the bill for the cleanup.
The report, "Tobacco: poisoning our planet", looks at the impacts of the whole cycle, from the growth of plants to the manufacturing of tobacco products, to consumption and waste.
While tobacco's health impacts have been well documented for decades—with smoking still causing more than eight million deaths worldwide every year—the report focuses on its broader environmental consequences.
The findings are "quite devastating," Ruediger Krech, WHO director of health promotion, told AFP, charging that the industry is "one of the biggest polluters that we know of."
Poison
He slammed tobacco companies' frequent efforts to rehabilitate their image through beach cleanups and funding environmental and disaster relief organisations as "greenwashing".
"The tobacco industry dumps toxic waste into communities and depletes natural resources," he told a press conference.
"Tobacco is not only poisoning people, it's poisoning our planet."
The industry is responsible for the loss of some 600 million trees each year—or five percent of global deforestation—while tobacco growing and production uses 200,000 hectares of land and 22 billion tonnes of water annually, the report found.
It also emits around 84 million tonnes of carbon dioxide, it said.
In addition, "tobacco products are the most littered item on the planet, containing over 7,000 toxic chemicals, which leech into our environment when discarded," Krech said.
4.5 trillion cigarette butts
He pointed out that each one of the estimated 4.5 trillion cigarette butts that end up in the oceans, rivers, sidewalks and beaches every year can pollute 100 litres of water.
And up to a quarter of all tobacco farmers contract so-called green tobacco sickness, or poisoning from the nicotine they absorb through the skin.
Farmers who handle tobacco leaves all day consume the equivalent of 50 cigarettes worth of nicotine a day, Krech said.
This is especially worrying for the many children involved in tobacco farming.
"Just imagine a 12-year-old being exposed to 50 cigarettes a day," he said.
Most tobacco is grown in poorer countries, where water and farmland are often in short supply, and where such crops are often grown at the expense of vital food production, the report said.
UN agencies have launched a project to try to help farmers transition to other crops.
Plastic pollution
At the same time the processing and transportation of tobacco account for a significant share of global greenhouse gas emissions—with the equivalent of one-fifth of the global airline industry's carbon footprint.
In addition, products like cigarettes, smokeless tobacco and e-cigarettes also contribute significantly to the global build-up of plastic pollution, WHO warned.
Cigarette filters contain microplastics—the tiny fragments that have been detected in every ocean and even at the bottom of the world's deepest trench—and make up the second-highest form of plastic pollution worldwide, the report said.
Stressing that there is no evidence filters provide any proven health benefits over smoking non-filtered cigarettes, the UN agency urged policy makers worldwide to consider banning them.
The WHO also called for governments to immediately halt the some $500 billion in subsidies the tobacco industry receives each year, and also urged them to stop allowing taxpayers to foot the bill for cleaning up the industry's mess.
Each year, China for instance dishes out around $2.6 billion and India around $766 million, while Brazil and Germany pay some $200 million each to clean up littered tobacco products, the report found.
It is important, Krech said, that "the industry pay actually for the mess that they are creating."
*---------*---------*---------*---------*---------*---------*
*---------*---------*---------*---------*---------*---------*
8)
A Disturbing New Pattern in Mass Shootings: Young Assailants
Six of the nine deadliest mass shootings in the United States since 2018 were by people who were 21 or younger, a shift from earlier decades.
By Glenn Thrush and Matt Richtel, June 2, 2022
https://www.nytimes.com/2022/06/02/us/politics/mass-shootings-young-men-guns.html
A memorial for the victims of Robb Elementary School in Uvalde, Texas, on Wednesday. Credit...Ivan Pierre Aguirre for The New York Times
WASHINGTON — The two young men accused of carrying out the massacres in Buffalo and Uvalde followed a familiar path: They legally bought semiautomatic rifles right after turning 18, posted images intended to display their strength and menace — and then turned those weapons on innocent people.
As investigators and researchers determine how the tragedies unfolded, the age of the accused has emerged as a key factor in understanding how two teenagers became driven to acquire such deadly firepower and how it led them to mass shootings.
They fit in a critical age range — roughly 15 to 25 — that law enforcement officials, researchers and policy experts consider a hazardous crossroads for young men, a period when they are in the throes of developmental changes and societal pressures that can turn them toward violence in general, and, in the rarest cases, mass shootings.
Six of the nine deadliest mass shootings in the United States since 2018 were by people who were 21 or younger, representing a shift for mass casualty shootings, which before 2000 were most often initiated by men in their mid-20s, 30s and 40s.
"We see two clusters when it comes to mass shooters, people in their 40s who commit workplace type shootings, and a very big cluster of young people — 18, 19, 20, 21 — who seem to get caught up in the social contagion of killing," said Jillian Peterson, a criminal justice professor who helped found the Violence Project, which maintains a comprehensive national database of mass shootings.
There is no single, easy explanation for why young men are more likely to engage in mass shootings. (Girls and women make up a small percentage of all perpetrators.) But many of the causes cited most often by law enforcement officials and academics seem intuitive — online bullying, the increasingly aggressive marketing of guns to boys, lax state gun laws and federal statutes that make it legal to buy a semiautomatic "long gun" at 18.
The shootings come against a backdrop of a worsening adolescent mental health crisis, one that predated the pandemic but has been intensified by it. Much of the despair among teenagers and young adults has been inwardly directed, with soaring rates of self-harm and suicide. In that sense, the perpetrators of mass shootings represent an extreme minority of young people, but one that nonetheless exemplifies broader trends of loneliness, hopelessness and the darker side of a culture saturated by social media and violent content.
In addition to Buffalo and Uvalde, Texas, there was a mass shooting at supermarket in Boulder, Colo., in March 2021 that the police said was carried out by a 21-year-old man; a massacre by what authorities said was a 21-year-old gunman targeting Hispanic shoppers at a Walmart in El Paso in August 2019 that resulted in 23 deaths; a school shooting in Santa Fe, Texas, in which a 17-year-old student is accused of killing eight students and two teachers in May 2018; and the killing of 17 people at Marjory Stoneman Douglas High School in Parkland, Fla., in February 2018 by a 19-year-old former student.
Only two of the 30 deadliest mass shootings recorded from 1949 to 2017 involved gunmen younger than 21: The first was the massacre of 13 people by two teenagers at Columbine High School in 1999, and the second came when a 20-year-old killed 27 people, most of them children, at Sandy Hook Elementary School in Newtown, Conn., in 2012.
A shooting on Wednesday in Tulsa, Okla., in which a gunman killed four people and wounded several more before apparently taking his own life, defied the recent pattern. The police said they believed that the gunman, whom they had not identified, was between 35 and 40 years old.
Frank T. McAndrew, a Knox College psychology professor who studies mass shootings, said almost all of the young killers he has researched were motivated by a need to prove themselves.
"These are young guys who feel like losers, and they have an overwhelming drive to show everybody they are not on the bottom," he said. "In the case of the Buffalo shooter, it was about trying to impress this community of racists he had cultivated online. In the case of the kid in Uvalde, it was about going back to the place where you felt disrespected and acting out violently."
Ms. Peterson added: "And since Columbine, they have tended to study and emulate each other. It's a growing problem."
In almost every case, social media or interactive online game platforms played some role, mirroring the ubiquity of online youth culture over the past two decades.
In the late 1990s, at the dawn of the social media age, one of the gunmen at Columbine created a blog on AOL to detail his violent thoughts.
The 22-year-old college student who murdered six people in Santa Barbara, Calif., in 2014 offered one of the most direct expressions of a gunman's mentality in a video posted on YouTube: The gun, he said, gave him a sense of power.
The Buffalo gunman, emulating the 28-year-old anti-Muslim terrorist who massacred 51 people in Christchurch, New Zealand, three years ago, live streamed himself as he methodically killed shoppers because they were Black. The man charged with the killings in Uvalde used Yubo, a relatively new platform, to share menacing messages in which he seemed to telegraph his plans.
"It's a way for kids to flex," said Titania Jordan, with Bark Technologies, an online safety company that monitors the use of platforms for violent content. "It's a way for them to show strength if they are bullied, or left out. It's just a part of the narrative now in all these cases — there's always a social media component."
There is also a biological one. Scientists have long known the teenage and post-teenage period is a critical time for brain development and a time, for most teenage boys, often characterized by aggressive and impulsive behavior. Girls of the same age, by contrast, have greater control over their impulses and emotions.
Overall, boys and young men account for half of all homicides involving guns, or any other weapon, nationwide, a percentage that has been steadily rising. Exactly 50 percent of all killings in 2020, the last year comprehensive data is available, were committed by assailants under 30, according to the F.B.I.'s uniform crime data tracking system.
Mass shootings, defined by most experts as involving the deaths of more than four people, are rare; shootings on the scale of Buffalo and Uvalde, with more than 10 victims, are even less common. Around 99 percent of all shootings in the country involve fewer victims, are the result of crime or personal disputes, and are motivated drug activity, gang conflict, domestic violence and personal disputes, according to statistics compiled by the federal government and academics.
"Why are a disproportionate number of crimes committed by males in their late teens and early 20s?" asked Laurence Steinberg, a professor of psychology and neuroscience at Temple University who has worked extensively on issues involving adolescent brain development.
The explanation, he said, includes the increasingly well-understood neurobiology of the teenage years. During adolescence, a "huge mismatch" develops between parts of the brain that cause impulsive behavior and emotional sensitivity and other parts of the brain that regulate acting out on such impulses, Dr. Steinberg said. Men, he added, tend typically to have an even higher, faster peak in arousal, while women see a higher peak in regulation at an earlier age — and therefore "at every age, males are more sensation-seeking."
The height of that mismatch tends to be in the late teens or early 20s. "Then the regulatory systems start to catch up to the impulses, and you've got this gradual improvement in ability to control thoughts, emotions and behaviors ongoing into the early 20s," Dr. Steinberg added.
The changes in brain development are accompanied by the disorienting societal passage from boy to man, with all the turbulence that entails even in healthy boys. There are "major differences in socialization for males and females related to aggressive behavior, appropriate ways to seek support, how to display emotions and acceptability of firearm use," said Sara Johnson, a professor of pediatrics at the Johns Hopkins University School of Medicine.
Young men are "almost universally" in transition "in their relationships, living situations, lifestyles, education, occupation," while "at the same time they have substantial autonomy from the adults in their lives and may find themselves negotiating with little support or supervision," Dr. Johnson said.
Yet what differentiates mass killers from other young men who do not act on these impulses is hard to define, and even harder to counter: madness.
Still, the vast majority of young men with mental health disorders, even serious ones, never commit acts of violence. They are more likely to be victims, or impulsively hurt themselves, than to painstakingly plot violence against others.
Republicans, countering Democratic calls for tightened gun controls, have seized on improving school safety and upgrading mental health services after the recent massacres.
Conservatives are also resisting efforts by congressional Democrats to raise the legal age to buy a semiautomatic rifle from 18 to 21. A Republican-appointed federal judge recently struck down California's attempt to increase the age. The state enlisted Dr. Steinberg and other experts to make the scientific case for keeping such weapons out of the hands of teenagers.
Their arguments did not prevail. "America would not exist without the heroism of the young adults who fought and died in our revolutionary army," Judge Ryan Nelson, speaking for a two-to-one majority in the U.S. Court of Appeals for the Ninth Circuit, wrote in an opinion released on May 11, three days before the rampage in Buffalo.
With few policy safeguards, mental health professionals and local authorities have been left to spot and stop potential gunmen, with uneven success.
In 2018, the police arrested two boys, 13 and 14, after receiving a tip just before the anniversary of the Columbine shooting. The teenagers were planning to target a school in Uvalde and wanted to rob a neighbor's house to obtain weapons. The suspect in the Uvalde massacre was not involved in that plot.
Over the years, Jill H. Rathus, a therapist in Great Neck, N.Y., has seen her share of young men who seemed to be a danger to themselves or others, including one whose mother feared her son would become a gunman. He did not.
Dr. Rathus and other experts cautioned that there were vast differences between suicidal and homicidal behavior, but she also said she saw some overlap in certain feelings that contributed to growing acts of violence directed at self and at others. "There's an incredible sense of aching despair plus hopelessness, and then there's a sense of a lack of meaningful connections," Dr. Rathus said. "Then there's access to lethal means, that's the center."
In 2006, Dr. McAndrew, the Knox College psychology professor, and two of his colleagues set out to test the effect of guns on the behavior of young men, monitoring the testosterone levels, and signs of aggression, in 30 male college students when they were given a children's toy and an actual firearm.
"The presence of a gun changed their behavior significantly," he said. "Just holding a gun gave you guts."
Glenn Thrush reported from Washington, and Matt Richtel from San Francisco.
*---------*---------*---------*---------*---------*---------*
*---------*---------*---------*---------*---------*---------*
9)
Cuba Lives, Breathes, Resists
May Day, COVID, Guantánamo, and the Summit of the Americas
I set off for Havana at the end of April to participate in the 15th International May Day Brigade organized by ICAP (The Institute for Friendship with the Cuban People.) Having achieved one of the lowest COVID mortality rates and highest vaccination rates in the world, Cuba had reopened the country to international guests on November 15, 2021. The U.S. had tried and failed to exploit the global disease disaster to bring about regime change, but the intensified embargo has made living conditions worse than ever for the Cuban people. May Day 2022 was a chance for Cuba to welcome tens-of-thousands of international guests to uphold the vision of International Workers' Day and demonstrate that global solidarity with Cuba lives.
Forty-five years before in 1977, I had joined Cuba's May Day celebration as part of the tenth Venceremos Brigade. In defiance of the U.S. blockade which had been put into place in 1960 to suffocate the revolution, the Venceremos Brigade mobilized people from the U.S. to break the blockade and engage in work in material support of Cuba. From the earliest days of the revolution, Cuba recognized that building the broadest international solidarity possible was critical for countering the unrelenting attacks from the imperialist regime to the North. My work in Cuba in 1977 cemented my belief that radical change within the U.S. had to be connected to liberation struggles around the globe.
I had visited Cuba a number of times since then, most recently in 2019 as part of the 50th Venceremos Brigade. After two years of pandemic isolation in the U.S., I was eager to march in Havana's May Day parade to affirm a social system which, remarkably, continued to put people and care first. I was also looking forward to attending the Seventh International Seminar for Peace and Abolition of Foreign Military Bases which would take place in Guantánamo, Cuba right after May Day. The Seminar would be an important intervention at a time when the U.S. and NATO were using the war in Ukraine to further promote their expansionist strategies around the world.
At the Julio Antonio Mello International Camp where the Brigade was staying, I met many other people of my generation—from Colombia, Brazil, Peru, Turkey, and Sweden among others. We had all lived through decades of revolutionary setbacks and fierce repression but were still committed to social change. As some of us elder women worked in the Camp's kitchen, we shared memories of Cuban youth festivals and brigades from decades gone by. We talked about current efforts for change in Latin America, such as the campaigns for leftist presidential candidates—Lula in Brazil and Gustavo Petro, a former guerrilla, in Colombia (who is now the leading candidate.) And we appreciated the high energy and growing commitment of dozens of younger generation Brigadistas who had come from Africa, Vietnam, Latin America, Canada, and the United States. These young people were the ones who would carry forward the work of solidarity in these very challenging times.
In the days leading up to May 1st, we learned about developments in Cuba over the past two years. We heard from Miguel Fraga who had been the First Secretary at the Cuban Embassy in Washington D.C. from 2015-2019. Fraga explained the many ways in which the U.S. had intensified destabilization efforts during the pandemic. While tightening sanctions which cut off medicines, medical equipment, food, fuel and family remittances, the U.S. orchestrated a social media war, blaming the shortages and problems on the Cuban government. This culminated in anti-government protests on July 11, 2021, with some U.S. politicians calling for "humanitarian" intervention in Cuba. Thousands of Cubans who supported the government took to the streets and the crisis was averted. However, the U.S. continues to try and manipulate Cuba's serious economic problems to its advantage.
It was an honor to visit the Center for Genetic Engineering and Biotechnology (CIBG) and hear from Dr. Manuel Raíces about the rapid development of three vaccines (with two more pending approval) in response to the pandemic. Cuba has vaccinated over 90 percent of the population starting at two years of age and has one of the highest vaccination rates in the world. Dr. Raices pointed out that the Cuban biotech sector is the only one on the planet that is not market oriented. They have worked to distribute vaccine science and technology to countries of the global south at the same time as they try to commercialize their pharmaceutical products when selling to wealthy nations.
Six days into my trip, I woke up with mild congestion and went to get tested for COVID at the Camp's clinic. Despite my four doses of the Pfizer vaccine and the masks I had worn most of the time as mandated by Cuban protocols, I had caught COVID as I lived and worked in the Camp's congregate setting. Intellectually I knew that the pandemic wasn't over when I decided to be part of the May Day Brigade. But part of me hoped that Cuba's superior health care system and its indomitable spirit would magically protect me. Instead, all my plans were abruptly altered as I was quickly whisked away in an ambulance to the Clinica Internacional Camilo Cienfuegos.
The Clinica, founded in 1992, routinely provides specialized medical care available at reasonable costs, to international visitors in ophthalmology as well as internal medicine, orthopedics, and gynecology. It had expanded its services to COVID-positive visitors in this period. Because I was a solidarity guest, six days of care, room and food were all free!
After having a complete medical review, including a chest x-ray, an EKG and a PCR test, I was escorted to a private room in the clinic where I would spend the next six days in quarantine. The room was air conditioned with a TV, my physical symptoms were very mild, and all the health care providers and staff were kind and concerned, but I was very disappointed and disoriented. Instead of participating in the huge social energy of May Day and the dynamic political exchanges at the conference in Guantánamo, I would spend the next days in a room by myself without access to the internet. While Cuba has internet, the U.S. blockade and limited economic resources have limited its accessibility and the government prioritizes Wi-Fi access for public spaces. The Clinica did not have Wi-Fi and I was told that the only possible access was through the hot spot in the public park across the street.
By holding my phone up to one corner of the window, I was able to get weak Wi-Fi sometimes for a few minutes, an exercise in frustration. However, as I stood by the window and watched Cubans go about their daily routines, I recalibrated my focus. I saw people on the corner waiting (and waiting) for buses to come and take them to work. I watched children playing games in their school uniforms at recess during the day and teenagers playing ball in the early evening. I observed people hanging their laundry out to dry on lines that they strung between the trees in the park, presumably because this provided more air and space than they had in their nearby homes. I saw couples sit and talk and embrace on a popular bench under a tree directly across from my window. I remembered that every day, especially since the pandemic, Cubans had to reimagine their lives because of shortages of everything from medicine to food to fuel. I needed to take my cue from Cuban resourcefulness. I would unplug and learn what I could from being in Cuba under quarantine.
I read the books on my iPad. I did daily stretches and yoga and walked back and forth across the room several times a day. I watched crappy old American sitcoms and movies, and flipped through news in five languages (English, Spanish, Chinese, German and French.) And I was able to view the exuberant May Day events as they were happening not only in Havana but across the island in Holguin, Santiago de Cuba, Santa Clara, and Pinar del Rio. I absorbed the May Day energy and later supplemented my impressions with information from those who attended the march.
Havana's march was attended by more than 700,000 workers and students from across the region while more than 5.5 million people celebrated throughout Cuba. Leading the Havana march was a gigantic banner 100-feet across, which read "Cuba Vive y Trabaja (Cuba Lives and Works,)" with 50,000 doctors and scientists involved in the anti-COVID struggle marching behind it. After them came workers, student, women's, and neighborhood contingents each with their own banners, posters, bands, dances and chants.
At the Plaza de la Revolución, Ulises Guilarte de Nacimiento, General Secretary of the CTC (Cuban Workers Federation) spoke of the ominous global circumstances in which this celebratory event was taking place, "Hostility is growing and the economic, commercial and financial blockade imposed on us by the United States government, the main obstacle to our development programs, is intensifying to the extreme, together with a pandemic that maintains negative impacts in the economic, social and labor spheres…Faced with this panorama, Cuba does not stop….We will not bend. Cuba lives and works for its present and for its future."
The vibrancy of May Day helped carry me through the next few days of my quarantine. On May 3rd I heard the chilling news, from TV reports in multiple languages, about the U.S. Supreme Court draft opinion which could potentially overturn Roe v. Wade. Cuban commentators pointed out that reproductive rights for Cuban women were enshrined in Cuba's constitution, a fact that was elaborated on later in an article by Calla Walsh, one of the young May Day Brigade members.
On the sixth day of quarantine, I happily tested negative for COVID and was able to leave the clinic and return home. Back in San Francisco, I was eager to hear about the Seminar in Guantánamo from those who had gone. The Seminar was attended by eighty-four delegates from twenty-five countries. Mark Ginsburg, a Brigadista from the Bay Area, was struck by the statistics that were shared. The U.S. maintains approximately seven-hundred-and-fifty military bases around the world in eighty countries. Ninety percent of the bases around the world belong to the United States! He was particularly moved by testimony from people in other countries, such as the Philippines, who spoke about the damaging impact of military bases on their communities.
On a Voices with Vision radio report back, hosted by May Day Brigade leader Netfa Freeman, Dr. Samira Addrey from IFCO (Interreligious Foundation for Community Organization) reported on the Seminar and the effect of the Guantánamo military base on the people living there. "The U.S. military occupation of Guantánamo has impacted the lives of the people of that province, it has stripped them of their agency and their ability as a province to produce a large share of efficient fishing products."
Dr. Addrey also called out the barbaric use of the base as a detention center since September 11, 2001. "Guantánamo Bay base has become a death camp that has targeted Muslims….all those prisoners held there were taken from one place or another, and disappeared into the system of black sites in different countries and then sent to Guantánamo to be tortured, and put in solitary confinement with all those parallels to the experiences of our political prisoners in the United States."
The Declaration issued at the end by Seminar participants cited the increasing aggressiveness of the U.S., NATO, and the European Union as the urgent context for the conference. The Declaration demanded the closure of all foreign military bases worldwide, the return of Guantánamo naval base to Cuba, and an end to the criminal U.S. blockade.
In the weeks since I returned from Cuba, the U.S. has ramped up its aggressive actions by banning Cuba, Venezuela, and Nicaragua from participation in the Summit of the Americas which is scheduled to be held in Los Angeles between June 6th and 10th. In response, Mexican President Manuel López Obrador, Bolivian President Luis Arce, Honduran President Xiomara Castro, and many other heads of state have all declared that they will not participate if the exclusions are maintained. The U.S. seems to have underestimated important political shifts that have taken place in Latin America over the past two years in the wake of the pandemic, making it less likely that countries will roll over and accept the U.S. belligerent policies.
The People's Summit for Democracy is being organized by activists from June 8-10 as a progressive alternative to Biden Administration's exclusionary summit. Unfortunately, the twenty-three-member delegation from Cuba has been denied visas by the U.S., and the L.A. police have denied a permit for the legal mass march planned to protest the official Summit gathering. The Workers Summit of the Americas, another alternative gathering, will take place in Tijuana, Mexico, June 10-12. It will not be subject to U.S. control and will welcome delegations from Cuba, Venezuela, and Nicaragua.
Solidarity is on the rise. Cuba lives, resists, and inspires others to do the same!
Diana Block works with the Bay Area Cuba Saving Lives Committee. She is a founding and active member of the California Coalition for Women Prisoners, an abolitionist organization that celebrated its 25th anniversary in 2020. She is the author of a memoir, Arm the Spirit—A Woman's Journey Underground and Back (AKPress 2009), and a novel, Clandestine Occupations—An Imaginary History (PM Press 2015). She writes for various online journals.
*---------*---------*---------*---------*---------*---------*


*---------*---------*---------*---------*---------*---------*
10)
Mass Shooting in Philadelphia Kills at Least 3 on Weekend of Gun Violence
Shootings in Tennessee, Virginia, Arizona and South Carolina left six more dead and dozens injured.
By Luke Vander Ploeg, Christine Chung and Livia Albeck-Ripka, June 5, 2022
https://www.nytimes.com/2022/06/05/us/philadelphia-shooting.html
This was the second shooting in one week on South Street in Philadelphia. Credit...Dakota Santiago for The New York Times
A brawl between at least two men turned a packed Philadelphia street into a scene of terror Saturday night after they pulled out guns and began firing wildly at each other. By the time the gunfire ended, three people were dead and 12 more were hurt.
Just a few hours later, in Chattanooga, Tenn., a mass shooting outside a bar sent people fleeing in panic. Three people were killed there, too, including one who was struck by a vehicle, and 14 were hurt, most of them with gunshot wounds.
And at parties in Phoenix, Chester, Va., and Summerton, S.C., celebrations turned tragic in mass shootings that resulted in a total of at least three deaths and 22 people who were injured, many of them children.
Although shootings across the country traditionally begin to rise with the approach of summer, the scenes of carnage over the weekend in the wake of massacres in Buffalo, Uvalde, Texas, and Tulsa, Okla., left cities shaken though, tellingly, not shocked.
"People are afraid to let their kids out of the house," Mayor Jim Kenney of Philadelphia said in an interview. But he added that there was little he could say to reassure frightened or grieving residents.
"Words are hard," Mr. Kenney said. "Words these days have become somewhat meaningless."
As of Sunday evening, the police in his city had announced no arrests. Earlier in the day, spent shell casings still littered South Street as investigators searched for more clues. Dots on the ground of what looked like blood, along with blue tape on storefronts that marked bullet holes, made the area, one of the most popular nightlife spots in Philadelphia, resemble a war zone.
The previous night, hundreds of people were out at the bars, restaurants and music venues of the district. Joe Pepe was with his girlfriend and friends eating outside at Paddy Whacks, an Irish bar on South Street a few blocks from where the shootings occurred. The energy was wild around sunset, he said, with what seemed like hundreds of teenagers on the busy street, clustered in groups and dancing on top of cars.
"The kids were running up the roofs of the parked cars, and all of us out trying to enjoy the night were getting uncomfortable," said Mr. Pepe, 33.
Meghan Ford, who was working at a bar down the block from the shooting, said that from the beginning of the evening shift, "something was in the air," with the swarms of teenagers and the commotion.
Later, fights began to break out. And at about 11:30 p.m., videos from the scene captured what happened next: a barrage of gunshots, screams and people fleeing.
Officers on patrol a short distance away ran to the gunfire, and one began shooting at one of the gunmen, according to the police, possibly hitting him. But he dropped his handgun and managed to run down a side street and disappear.
Jin Chen, who was working Saturday night as a cashier at Ishkabibble's, a cheesesteak restaurant on South Street, said that he heard several shots ring out.
"I heard like five or more shots, and then people started running," Mr. Chen, 19, said by phone Sunday. Of the crowd, he added, "They were screaming."
When the firing stopped, it was a scene of devastation. Officers at the scene saw "several civilians suffering from gunshot wounds lying on the street," Danielle M. Outlaw, the Philadelphia police commissioner, said at a news conference Sunday.
Three of the 14 people shot were killed: Kristopher Minners, 22, Alexis Quinn, 27, and Gregory Jackson, 34, who also went by the nickname Japan. The police said a fight between one of the victims and another male might have been the "genesis" of the shooting.
The 11 others who were shot were between 17 and 69 years old, Commissioner Outlaw said, adding that their conditions ranged from stable to critical.
One other person was injured by shattering glass, according to the police. Two guns had been recovered from the scene so far, they said.
Mr. Kenney, who was in Reno, Nev., over the weekend for a meeting of the United States Conference of Mayors, said that he had been told there had been as many as five gunmen and that a ghost gun — an untraceable firearm often assembled from a kit — was among those that had been used.
The shooting was the 10th in Philadelphia over the course of Friday and Saturday, according to the Gun Violence Archive, a nonprofit organization that tracks shooting deaths. The other nine shootings each had a single victim; one resulted in death. Another shooting on South Street, on Tuesday, injured one.
On Sunday, many in Philadelphia were just beginning to process the shooting, including Devon Howell. As a teenager, Mr. Howell, now 20, took boxing classes with one of the victims, Mr. Jackson, whom he called Coach G.
He was a disciplined coach, a dedicated father, and man who "just took care of everyone around him," Mr. Howell said, recalling how Mr. Jackson would roller skate inside the boxing gym and regularly bring his young daughter to work.
"To be honest, he was one of the coolest people you could meet in your entire life," Mr. Howell said. "He never had any problems with anyone."
Another victim, Mr. Minners, was a second- and sixth-grade resident adviser at Girard College, a boarding school in Philadelphia.
"He had such a good heart. There was nothing he wouldn't do for anybody," said Richard Perdomo, a colleague who had known Mr. Minners since he was about 6 years old and himself was a student at the school. He described Mr. Minners as loved by the children in his care.
"This is going to crush them," he said, adding that Mr. Minners had celebrated his birthday just days ago. "This truly, truly hurts."
"What a waste," he added. "He had his whole life in front of him."
The devastation in Philadelphia was far from an isolated case this weekend. In Chattanooga, where 14 people were shot during a fight at a neighborhood bar, two victims died from gunshot wounds and another person died after being struck by a car while fleeing, the police chief, Celeste Murphy, said at a news conference.
Two other people fleeing the shooting were also struck by vehicles, she said. The conditions of the victims were not immediately available, but the chief said some were critical.
The police were seeking multiple assailants, but a motive for the shooting, which was reported around 2:42 a.m., was not immediately clear.
On Sunday afternoon, McCallie Avenue, where some of the victims were struck by cars, was covered in dark skid marks, and the cordoned-off parking lot of the bar, Mary's Bar and Grill, was full of broken bottles of Hennessy and Bud Light, along with a broken rhinestone necklace. Bright yellow, orange and blue flowers were placed on the corner in memorial of the lives lost.
A former bartender at Mary's, who declined to give her name and lives nearby, called the bar a community staple. She said she returned home just after the shooting had ended and saw one victim — a young woman who was a friend of a friend — on the street, covered with a tarp. The body was not removed until after 9:30 a.m., she said.
Saterda Smith, who lost her 20-year-old son in a shooting just around the corner from Mary's in 2015, was part of a small gathering of mothers from the anti-violence group Mom Demands Action that held a protest down the block.
"These people have children! And now their children have to ask, 'Where's my mama?'" Ms. Smith said. "Enough is enough."
The Gun Violence Archive has counted more than 240 mass shootings so far this year, defined as one in which four or more people were killed or injured. Shootings in the United States rose sharply during the pandemic.
This weekend's spate of violence also included mass shootings that occurred at parties in Virginia, Arizona and South Carolina.
At a party late Friday in Chester, Va., about 20 miles south of Richmond, 20-year-old Taborri J. Carter of Petersburg was killed and seven others were injured amid a flurry of more than 50 gunshots from at least four weapons, the local authorities said.
The injured included five men and boys ages 16 to 21 who were shot, and two girls, ages 16 and 17, who were hit by vehicles as they fled the shooting.
Early Saturday in Phoenix, gunfire erupted at a party in a strip-mall parking lot, killing a 14-year-old girl and injuring eight people, who all sustained gunshot wounds, the police said.
And in Summerton, S.C., one person was killed and seven others were wounded at a graduation party on Saturday night, the sheriff's office in Clarendon County, S.C., said in a statement.
Two vehicles pulled up to a residence in the town, which is about 77 miles northeast of Charleston. One vehicle stayed on the highway and the other approached the yard, which was filled with about 150 people, the sheriff's office said. Shots were fired, but it was not clear if the assailants were targeting a particular person or if the shooting was random, the statement said.
A total of eight victims, including a 12-year-old, five teenagers and two adults, were shot, the sheriff's office said. A 32-year-old woman died on Sunday morning.
"This appears to be a gang-related incident stemming from previous drive-by shootings in other parts of the county," the sheriff's office said.
As the weekend's violence unfolded, senators in Washington continued working to strike a compromise on legislation that would expand the nation's background check system as well as allocate money for mental health resources, school security and the implementation of "red flag" laws across the states.
Two veterans of failed negotiations in the past — Senator Christopher S. Murphy of Connecticut, a Democrat, and Patrick J. Toomey of Pennsylvania, a Republican — said in separate interviews on Sunday that they believed they were closer to a deal than compared with previous attempts.
"It's a test of the federal government as to whether we will deliver at a moment of just fierce anxiety among the American public, so we're closer than ever before," Mr. Murphy said on CNN's "State of the Union."
Mr. Murphy acknowledged that an assault weapons ban and a universal background check law will not be part of a final compromise in order to win the necessary Republican votes, even as House Democrats prepare to force a series of votes on individual gun bills that do not have Republican support.
Mr. Toomey, who saw his own party filibuster the background check deal he helped strike with Democrats after the Sandy Hook shooting in Newtown, Conn., in 2012, said he hoped to see at least half the Republican conference in the Senate support a final agreement.
Back in Philadelphia, Mr. Chen, the cashier, was simply preparing to return to business as usual. Although the attack there had made him nervous, he was not entirely surprised by it, given other recent shootings across the United States.
"It happens all the time," Mr. Chen said. "You just go on with your day."
Reporting was contributed by Stacy M. Brown, Cari Wade Gervin, Vimal Patel, Tiffany May, Christopher Mele, Emily Cochrane, Mitch Smith and Dakota Santiago. Kitty Bennett contributed research.
*---------*---------*---------*---------*---------*---------*
*---------*---------*---------*---------*---------*---------*
11)
It's Been 50 Years. I Am Not 'Napalm Girl' Anymore.
By Kim Phuc Phan Thi, June 6, 2022
Ms. Phan Thi is the founder of the Kim Foundation International, which provides aid to child victims of war.
https://www.nytimes.com/2022/06/06/opinion/kim-phuc-vietnam-napalm-girl-photograph.html
The author at her home in Ontario. Credit...May Truong for The New York Times
I grew up in the small village of Trang Bang in South Vietnam. My mother said I laughed a lot as a young girl. We led a simple life with an abundance of food, since my family had a farm and my mom ran the best restaurant in town. I remember loving school and playing with my cousins and the other children in our village, jumping rope, running and chasing one another joyfully.
All of that changed on June 8, 1972. I have only flashes of memories of that horrific day. I was playing with my cousins in the temple courtyard. The next moment, there was a plane swooping down close and a deafening noise. Then explosions and smoke and excruciating pain. I was 9 years old.
Napalm sticks to you, no matter how fast you run, causing horrific burns and pain that last a lifetime. I don't remember running and screaming, "Nóng quá, nóng quá!" ("Too hot, too hot!") But film footage and others' memories show that I did.
You've probably seen the photograph of me taken that day, running away from the explosions with the others — a naked child with outstretched arms, screaming in pain. Taken by the South Vietnamese photographer Nick Ut, who was working for The Associated Press, it ran on the front pages of newspapers all over the world and won a Pulitzer Prize. In time, it became one of the most famous images from the Vietnam War.
Nick changed my life forever with that remarkable photograph. But he also saved my life. After he took the photo, he put his camera down, wrapped me in a blanket and whisked me off to get medical attention. I am forever thankful.
Yet I also remember hating him at times. I grew up detesting that photo. I thought to myself, "I am a little girl. I am naked. Why did he take that picture? Why didn't my parents protect me? Why did he print that photo? Why was I the only kid naked while my brothers and cousins in the photo had their clothes on?" I felt ugly and ashamed.
Growing up, I sometimes wished to disappear not only because of my injuries — the burns scarred a third of my body and caused intense, chronic pain — but also because of the shame and embarrassment of my disfigurement. I tried to hide my scars under my clothes. I had horrific anxiety and depression. Children in school recoiled from me. I was a figure of pity to neighbors and, to some extent, my parents. As I got older, I feared that no one would ever love me.
Meanwhile, the photograph became even more famous, making it more difficult to navigate my private and emotional life. Beginning in the 1980s, I sat through endless interviews with the press and meetings with royalty, prime ministers and other leaders, all of whom expected to find some meaning in that image and my experience. The child running down the street became a symbol of the horrors of war. The real person looked on from the shadows, fearful that I would somehow be exposed as a damaged person.
Photographs, by definition, capture a moment in time. But the surviving people in these photographs, especially the children, must somehow go on. We are not symbols. We are human. We must find work, people to love, communities to embrace, places to learn and to be nurtured.
It was only in adulthood, after defecting to Canada that I began to find peace and realize my mission in life, with the help of my faith, husband and friends. I helped establish a foundation and began traveling to war-torn countries to provide medical and psychological assistance to children victimized by war, offering, I hope, a sense of possibilities.
I know what it is like to have your village bombed, your home devastated, to see family members die and bodies of innocent civilians lying in the street. These are the horrors of war from Vietnam memorialized in countless photographs and newsreels. Sadly, they are also the images of wars everywhere, of precious human lives being damaged and destroyed today in Ukraine.
They are, in a different way, also the horrific images coming from school shootings. We may not see the bodies, as we do with foreign wars, but these attacks are the domestic equivalent of war. The thought of sharing the images of the carnage, especially of children, may seem unbearable — but we should confront them. It is easier to hide from the realities of war if we don't see the consequences.
I cannot speak for the families in Uvalde, Texas, but I think that showing the world what the aftermath of a gun rampage truly looks like can deliver the awful reality. We must face this violence head-on, and the first step is to look at it.
I have carried the results of war on my body. You don't grow out of the scars, physically or mentally. I am grateful now for the power of that photograph of me as a 9-year-old, as I am of the journey I have taken as a person. My horror — which I barely remember — became universal. I'm proud that, in time, I have become a symbol of peace. It took me a long time to embrace that as a person. I can say, 50 years later, that I'm glad Nick captured that moment, even with all the difficulties that image created for me.
That picture will always serve as a reminder of the unspeakable evil of which humanity is capable. Still, I believe that peace, love, hope and forgiveness will always be more powerful than any kind of weapon.
*---------*---------*---------*---------*---------*---------*
*---------*---------*---------*---------*---------*---------*
12)
Trader Joe's Workers File for Election to Create Company's First Union
The workers, at a store in western Massachusetts, cited health and safety concerns and cuts to benefits at the grocery chain.
By Noam Scheiber, June 8, 2022
https://www.nytimes.com/2022/06/08/business/economy/trader-joes-union.html
Maeg Yosef, an employee at the Trader Joe's store in Hadley, Mass., is one of the leaders of a union campaign. Credit...Holly Lynton for The New York Times
In a sign that service industry workers continue to have a strong interest in unionizing after successful votes at Starbucks, REI and Amazon, employees at a Trader Joe's in western Massachusetts have filed for a union election. If they win, they will create the only union at Trader Joe's, which has more than 500 locations and 50,000 employees nationwide.
The filing with the National Labor Relations Board late Tuesday seeks an election involving about 85 employees who would form an independent union, Trader Joe's United, rather than affiliate with an established labor organization. That echoes the independent union created by Amazon workers on Staten Island and the worker-led organizing at Starbucks.
"Over the past however many years, changes have been happening without our consent," said Maeg Yosef, an 18-year employee of the store who is a leader of the union campaign. "We wanted to be in charge of the whole process, to be our own union. So we decided to go independent."
Ms. Yosef said the union had support from over 50 percent of workers at the store, known as crew members.
"We have always said we welcome a fair vote and are prepared to hold a vote if more than 30 percent of the crew wants one," said a company spokeswoman, Nakia Rohde, alluding to the N.L.R.B. threshold for an election. "We are not interested in delaying the process in any way."
The company shared a similar statement with workers after they announced their intention to unionize in mid-May.
In explaining their decision, Ms. Yosef and four colleagues, all of whom have been with the company for at least eight years, cited changes that had made their benefits less generous over time, as well as health and safety concerns, many of which were magnified during the pandemic.
"This is probably where we get to all of these things coming together," said Tony Falco, another worker involved in the union campaign, alluding to Covid-19.
Mr. Falco said the store, in Hadley, took several reassuring steps during the first 12 to 15 months of the pandemic. Management enforced masking requirements and restrictions on the number of customers who could be in the store at once. It allowed workers to take leaves of absence while continuing to receive health insurance and gave workers additional "thank you" pay as high as $4 per hour.
But Mr. Falco and others said the company was too quick to roll back many of these measures — including additional pay — as vaccines became widely available last year, and noted that the store had suffered Covid outbreaks in the past several weeks after masking became laxer. The store followed the policy of the local health board, which altered its mask mandate at various points, lifting it most recently in March.
Some employees were also upset that the company did not inform them that the state had passed a law requiring employers to provide up to five paid days off for workers who missed work because of Covid.
"It was in effect seven months, and they never announced it," Ms. Yosef said. "I figured that out at the end of December, early January."
Ms. Rohde, the spokeswoman, said this account was incorrect, but four other employees who support the union also said the company had not told them of the policy.
Trader Joe's has generally resisted unionization over the years, including earlier in the pandemic. In March 2020, the chief executive, Dan Bane, sent employees a letter referring to "the current barrage of union activity that has been directed at Trader Joe's" and complaining that union advocates "clearly believe that now is a moment when they can create some sort of wedge in our company through which they can drive discontent."
The company's response to the current campaign appears somewhat less hostile, though union organizers have recently filed charges of unfair labor practices, such as asking employees to remove pro-union pins.
Several employees said a broader issue was underlying their frustrations: what they saw as the company's evolution from a niche outlet known for pampering customers and treating employees generously to an industrial-scale chain that is more focused on the bottom line.
The company's employee handbook urges workers to provide a "Wow customer experience," which it defines as "the feelings a customer gets about our delight that they are shopping with us." But longtime employees say the company, which is privately held, has gradually become stingier with workers.
For years, the company offered health care widely to part-timers. In the early 2010s, the company raised the average weekly hours that employees needed to qualify for full health coverage to 30 from roughly 20, informing those who no longer qualified that they could receive coverage under the federal Affordable Care Act instead. (The company dropped the threshold to 28 hours more recently.)
"It was done under the guise of 'You can get these plans, they're the same plans,' but they were not the same plans," said Sarah Yosef, the Hadley store's manager at the time, who later stepped back from the role and is now a frontline worker there.
"I had to sit there individually with crew members saying you're going to be losing health insurance," added Ms. Yosef, who is married to Maeg Yosef.
Retirement benefits have followed a similar trajectory: Around the same time, Trader Joe's lowered its retirement contribution to 10 percent of an employee's earnings from about 15 percent, for employees 30 and older. Beginning with last year's benefit, the company lowered the percentage again for many workers, who saw the contribution fall to 5 percent. The company is no longer specifying any set amount.
Ms. Rohde, the spokeswoman, said the change was partly a response to indications from many workers that they would prefer a bonus to a retirement contribution.
Workers said the company's determination to provide an intimate shopping experience had often come at their expense amid a rapid increase in business over the past decade, and then again with the resurgence of business as pandemic restrictions lifted.
For example, Trader Joe's doesn't have conveyor belts at checkout lines and instructs cashiers to reach into customers' carts or baskets to unload items. This can appear to personalize the service but takes a physical toll on workers, who typically bend over hundreds of times during a shift.
(The company asks workers to perform different tasks throughout the day so they are not constantly ringing up customers.)
Maeg Yosef and her co-workers began discussing the union campaign over the winter, angry over the store's failure to publicize the state-mandated paid leave benefit and the change in retirement benefits, and some have drawn inspiration from the successful union elections at Starbucks, Amazon and REI.
Their union campaign may also benefit from the same leverage that workers at those companies enjoyed as a result of the relatively tight job market.
"People just keep leaving — I know they want to hire people now," Maeg Yosef said. "It's hard to keep people around."
*---------*---------*---------*---------*---------*---------*
*---------*---------*---------*---------*---------*---------*
*---------*---------*---------*---------*---------*---------*


*---------*---------*---------*---------*---------*---------*
*---------*---------*---------*---------*---------*---------*
*---------*---------*---------*---------*---------*---------*


*---------*---------*---------*---------*---------*---------*
*---------*---------*---------*---------*---------*---------*
*---------*---------*---------*---------*---------*---------*