MULTIPLYING LABOR'S POWER
Jun 1, 2022, 8:00 P.M., Eastern Time (U.S. and Canada)
Webinar Registration:
https://us02web.zoom.us/webinar/register/WN_HtEQ7A7wTfi_mzwk3MSnqA
You are invited to participate in this important labor webinar highlighting reports from union locals that have participated in movements addressing the environment, peace and militarism, racism, women's rights, and other social justice issues.
We will hear about how unions can build and participate in the June 18 "Poor People's and Low-Wage Workers' Assembly and Moral March on Washington and to the Polls."
Presenters:
* Roz Pelles: Strategic Advisor to the Poor People's Campaign and Labor Liaison for the Campaign's June 18 "Poor People's and Low-Wage Workers' Assembly and Moral March on Washington and to the Polls"
* Angaza Laughinghouse: UE Local 150-NC Public Service Workers Union leader; co-founder of Black Workers for Justice
* Onika Shepherd: Long Island (NY) Political Director, 1199SEIU
* Norman Rogers: 2nd Vice President, United Steelworkers Local 675; refinery worker
* Gary Holloway: Field Director, United Steelworkers Local 675; refinery worker
* Adrienne Pagac: Former Co-President of the Teaching Assistants Association at UW-Madison (AFT 3220); Member, United Faculty and Academic Staff (AFT 223) at UW-Madison
* Martha Hawthorne: member, SEIU Local 1021; Traveling Musicians Union Local 1000; Co Chair, SEIU 1021 Climate Justice Committee; San Francisco Labor Council Delegate
* Michael Zweig, Moderator: member, UUP-AFT2190; Co-founder and former National Co-convener, U.S. Labor Against the War
This webinar is organized by founders and former leaders of U.S. Labor Against War (USLAW).
*---------*---------*---------*---------*---------*---------*
*---------*---------*---------*---------*---------*---------*
*---------*---------*---------*---------*---------*---------*
*---------*---------*---------*---------*---------*---------*
Tell Congress to Help #FreeDanielHale
U.S. Air Force veteran, Daniel Everette Hale has recently completed his first year of a 45-month prison sentence for exposing the realities of U.S drone warfare. Daniel Hale is not a spy, a threat to society, or a bad faith actor. His revelations were not a threat to national security. If they were, the prosecution would be able to identify the harm caused directly from the information Hale made public. Our members of Congress can urge President Biden to commute Daniel's sentence! Either way, Daniel deserves to be free.
https://oneclickpolitics.global.ssl.fastly.net/messages/edit?promo_id=16979
*---------*---------*---------*---------*---------*---------*
*---------*---------*---------*---------*---------*---------*
Sign the petition:
https://dontextraditeassange.com/petition/
If extradited to the United States, Julian Assange, father of two young British children, would face a sentence of 175 years in prison merely for receiving and publishing truthful information that revealed US war crimes.
UK District Judge Vanessa Baraitser has ruled that "it would be oppressive to extradite him to the United States of America".
Amnesty International states, "Were Julian Assange to be extradited or subjected to any other transfer to the USA, Britain would be in breach of its obligations under international law."
Human Rights Watch says, "The only thing standing between an Assange prosecution and a major threat to global media freedom is Britain. It is urgent that it defend the principles at risk."
The NUJ has stated that the "US charges against Assange pose a huge threat, one that could criminalise the critical work of investigative journalists & their ability to protect their sources".
Julian will not survive extradition to the United States.
The UK is required under its international obligations to stop the extradition. Article 4 of the US-UK extradition treaty says: "Extradition shall not be granted if the offense for which extradition is requested is a political offense."
The decision to either Free Assange or send him to his death is now squarely in the political domain. The UK must not send Julian to the country that conspired to murder him in London.
The United Kingdom can stop the extradition at any time. It must comply with Article 4 of the US-UK Extradition Treaty and Free Julian Assange.
*---------*---------*---------*---------*---------*---------*
*---------*---------*---------*---------*---------*---------*
Laws are created to be followed
by the poor.
Laws are made by the rich
to bring some order to exploitation.
The poor are the only law abiders in history.
When the poor make laws
the rich will be no more.
—Roque Dalton Presente!
(May 14, 1935 – Assassinated May 10, 1975)[1]
---
[1] Roque Dalton was a Salvadoran poet, essayist, journalist, political activist, and intellectual. He is considered one of Latin America's most compelling poets.
Poems:
http://cordite.org.au/translations/el-salvador-tragic/
About:
https://en.wikipedia.org/wiki/Roque_Dalton
*---------*---------*---------*---------*---------*---------*
*---------*---------*---------*---------*---------*---------*
Screenshot of Kevin Cooper's artwork from the teaser.


"In His Defense" The People vs. Kevin Cooper
A film by Kenneth A. Carlson
Teaser is now streaming at:
https://www.carlsonfilms.com
Posted by: Death Penalty Focus Blog, January 10, 2022
https://deathpenalty.org/teaser-for-a-kevin-cooper-documentary-is-now-streaming/?eType=EmailBlastContent&eId=1c7299ab-018c-4780-9e9d-54cab2541fa0
"In his Defense," a documentary on the Kevin Cooper case, is in the works right now, and California filmmaker Kenneth Carlson has released a teaser for it on CarlsonFilms.com
Just over seven months ago, California Gov. Gavin Newsom ordered an independent investigation of Cooper's death penalty case. At the time, he explained that, "In cases where the government seeks to impose the ultimate punishment of death, I need to be satisfied that all relevant evidence is carefully and fairly examined."
That investigation is ongoing, with no word from any of the parties involved on its progress.
Cooper has been on death row since 1985 for the murder of four people in San Bernardino County in June 1983. Prosecutors said Cooper, who had escaped from a minimum-security prison and had been hiding out near the scene of the murder, killed Douglas and Peggy Ryen, their 10-year-old daughter, Jessica, and 10-year-old Chris Hughes, a friend who was spending the night at the Ryen's. The lone survivor of the attack, eight-year-old Josh Ryen, was severely injured but survived.
For over 36 years, Cooper has insisted he is innocent, and there are serious questions about evidence that was missing, tampered with, destroyed, possibly planted, or hidden from the defense. There were multiple murder weapons, raising questions about how one man could use all of them, killing four people and seriously wounding one, in the amount of time the coroner estimated the murders took place.
The teaser alone gives a good overview of the case, and helps explain why so many believe Cooper was wrongfully convicted.
*---------*---------*---------*---------*---------*---------*
*---------*---------*---------*---------*---------*---------*


New Legal Filing in Mumia's Case
The following statement was issued January 4, 2022, regarding new legal filings by attorneys for Mumia Abu-Jamal.
Campaign to Bring Mumia Home
In her novel Their Eyes Were Watching God, Zora Neale Hurston wrote, "There are years that ask questions, and years that answer."
With continued pressure from below, 2022 will be the year that forces the Philadelphia District Attorney's Office and the Philly Police Department to answer questions about why they framed imprisoned radio journalist and veteran Black Panther Mumia Abu-Jamal. Abu-Jamal's attorneys have filed a Pennsylvania Post Conviction Relief Act (PCRA) petition focused entirely on the six boxes of case files that were found in a storage room of the DA's office in late December 2018, after the case being heard before Judge Leon Tucker in the Court of Common Pleas concluded. (tinyurl.com/zkyva464)
The new evidence contained in the boxes is damning, and we need to expose it. It reveals a pattern of misconduct and abuse of authority by the prosecution, including bribery of the state's two key witnesses, as well as racist exclusion in jury selection—a violation of the landmark Supreme Court decision Batson v. Kentucky. The remedy for each or any of the claims in the petition is a new trial. The court may order a hearing on factual issues raised in the claims. If so, we won't know for at least a month.
The new evidence includes a handwritten letter penned by Robert Chobert, the prosecution's star witness. In it, Chobert demands to be paid money promised him by then-Prosecutor Joseph McGill. Other evidence includes notes written by McGill, prominently tracking the race of potential jurors for the purposes of excluding Black people from the jury, and letters and memoranda which reveal that the DA's office sought to monitor, direct, and intervene in the outstanding prostitution charges against its other key witness Cynthia White.
Mumia Abu-Jamal was framed and convicted 40 years ago in 1982, during one of the most corrupt and racist periods in Philadelphia's history—the era of cop-turned-mayor Frank Rizzo. It was a moment when the city's police department, which worked intimately with the DA's office, routinely engaged in homicidal violence against Black and Latinx detainees, corruption, bribery and tampering with evidence to obtain convictions.
In 1979, under pressure from civil rights activists, the Department of Justice filed an unprecedented lawsuit against the Philadelphia police department and detailed a culture of racist violence, widespread corruption and intimidation that targeted outspoken people like Mumia. Despite concurrent investigations by the FBI and Pennsylvania's Attorney General and dozens of police convictions, the power and influence of the country's largest police association, the Fraternal Order of Police (FOP) prevailed.
Now, more than 40 years later, we're still living with the failure to uproot these abuses. Philadelphia continues to fear the powerful FOP, even though it endorses cruelty, racism, and multiple injustices. A culture of fear permeates the "city of brotherly love."
The contents of these boxes shine light on decades of white supremacy and rampant lawlessness in U.S. courts and prisons. They also hold enormous promise for Mumia's freedom and challenge us to choose Love, Not PHEAR. (lovenotphear.com/) Stay tuned.
—Workers World, January 4, 2022
https://www.workers.org/2022/01/60925/
Pa. Supreme Court denies widow's appeal to remove Philly DA from Abu-Jamal case
Abu Jamal was convicted by a jury of first-degree murder of Faulkner in 1982. Over the past four decades, five of his appeals have been quashed.
In 1989, the state's highest court affirmed Abu-Jamal's death penalty conviction, and in 2012, he was re-sentenced to life in prison.
Abu-Jamal, 66, remains in prison. He can appeal to the state Supreme Court, or he can file a new appeal.
KYW Newsradio reached out to Abu-Jamal's attorneys for comment. They shared this statement in full:
"Today, the Superior Court concluded that it lacked jurisdiction to consider issues raised by Mr. Abu-Jamal in prior appeals. Two years ago, the Court of Common Pleas ordered reconsideration of these appeals finding evidence of an appearance of judicial bias when the appeals were first decided. We are disappointed in the Superior Court's decision and are considering our next steps.
"While this case was pending in the Superior Court, the Commonwealth revealed, for the first time, previously undisclosed evidence related to Mr. Abu-Jamal's case. That evidence includes a letter indicating that the Commonwealth promised its principal witness against Mr. Abu-Jamal money in connection with his testimony. In today's decision, the Superior Court made clear that it was not adjudicating the issues raised by this new evidence. This new evidence is critical to any fair determination of the issues raised in this case, and we look forward to presenting it in court."
https://www.audacy.com/kywnewsradio/news/local/pennsylvania-superior-court-rejects-mumia-abu-jamal-appeal-ron-castille
Governor Tom Wolf -1(717) 787-2500 Fax 1 (717) 772-8284
508 Main Capitol Building
Questions and comments may be sent to: info@freedomarchives.org


*---------*---------*---------*---------*---------*---------*
*---------*---------*---------*---------*---------*---------*
A Plea for the Compassionate Release of
Leonard Peltier
https://www.youtube.com/watch?v=jWdJdODKO6M&feature=youtu.be


Sign our petition urging President Biden to grant clemency to Leonard Peltier.
https://www.freeleonardpeltier.com/petition

Email: contact@whoisleonardpeltier.info

Address: 116 W. Osborne Ave. Tampa, Florida 33603
*---------*---------*---------*---------*---------*---------*
Bury My Heart with Leonard Peltier
How long will he still be with us? How long will the genocide continue?
By Michael Moore
—VIA Email: michaelmoore@substack.com














































LEONARD PELTIER, Native American hero. An innocent man, he's spent 44 years as a political prisoner. The prosecutor who put him behind bars now says Peltier is innocent. President Biden, go to Mass today, and then stop this torture. (Sipa/Shutterstock)


American Indian Movement leader, Leonard Peltier, at 77 years of age, came down with Covid-19 this weekend. Upon hearing this, I broke down and cried. An innocent man, locked up behind bars for 44 years, Peltier is now America's longest-held political prisoner. He suffers in prison tonight even though James Reynolds, one of the key federal prosecutors who sent Peltier off to life in prison in 1977, has written to President Biden and confessed to his role in the lies, deceit, racism and fake evidence that together resulted in locking up our country's most well-known Native American civil rights leader. Just as South Africa imprisoned for more than 27 years its leading voice for freedom, Nelson Mandela, so too have we done the same to a leading voice and freedom fighter for the indigenous people of America. That's not just me saying this. That's Amnesty International saying it. They placed him on their political prisoner list years ago and continue to demand his release.
And it's not just Amnesty leading the way. It's the Pope who has demanded Leonard Peltier's release. It's the Dalai Lama, Jesse Jackson, and the President Pro-Tempore of the US Senate, Sen. Patrick Leahy. Before their deaths, Nelson Mandela, Mother Theresa and Bishop Desmond Tutu pleaded with the United States to free Leonard Peltier. A worldwide movement of millions have seen their demands fall on deaf ears.
And now the calls for Peltier to be granted clemency in DC have grown on Capitol Hill. Senator Brian Schatz (D-HI), the head of the Senate committee who oversees the Bureau of Indian Affairs, has also demanded Peltier be given his freedom. Numerous House Democrats have also written to Biden.
The time has come for our President to act; the same President who appointed the first-ever Native American cabinet member last year and who halted the building of the Keystone pipeline across Native lands. Surely Mr. Biden is capable of an urgent act of compassion for Leonard Peltier — especially considering that the prosecutor who put him away in 1977 now says Peltier is innocent, and that his US Attorney's office corrupted the evidence to make sure Peltier didn't get a fair trial. Why is this victim of our judicial system still in prison? And now he is sick with Covid.
For months Peltier has begged to get a Covid booster shot. Prison officials refused. The fact that he now has COVID-19 is a form of torture. A shame hangs over all of us. Should he now die, are we all not complicit in taking his life?
President Biden, let Leonard Peltier go. This is a gross injustice. You can end it. Reach deep into your Catholic faith, read what the Pope has begged you to do, and then do the right thing.
For those of you reading this, will you join me right now in appealing to President Biden to free Leonard Peltier? His health is in deep decline, he is the voice of his people — a people we owe so much to for massacring and imprisoning them for hundreds of years.
The way we do mass incarceration in the US is abominable. And Leonard Peltier is not the only political prisoner we have locked up. We have millions of Black and brown and poor people tonight in prison or on parole and probation — in large part because they are Black and brown and poor. THAT is a political act on our part. Corporate criminals and Trump run free. The damage they have done to so many Americans and people around the world must be dealt with.
This larger issue is one we MUST take on. For today, please join me in contacting the following to show them how many millions of us demand that Leonard Peltier has suffered enough and should be free:
President Joe Biden
Phone: 202-456-1111
E-mail: At this link
https://www.whitehouse.gov/contact/
Secretary of the Interior Deb Haaland
Phone: 202-208-3100
E-mail: feedback@ios.doi.gov
Attorney General Merrick Garland
Phone: 202-514-2000
E-mail: At this link
https://www.justice.gov/doj/webform/your-message-department-justice
I'll end with the final verse from the epic poem "American Names" by Stephen Vincent Benet:
I shall not rest quiet in Montparnasse.
I shall not lie easy at Winchelsea.
You may bury my body in Sussex grass,
You may bury my tongue at Champmedy.
I shall not be there. I shall rise and pass.
Bury my heart at Wounded Knee.
PS. Also — watch the brilliant 1992 documentary by Michael Apted and Robert Redford about the framing of Leonard Peltier— "Incident at Oglala"




*---------*---------*---------*---------*---------*---------*
*---------*---------*---------*---------*---------*---------*
Union Membership—2021
Bureau of Labor Statistics
U.S. Department of Labor
For release 10:00 a.m. (ET) Thursday, January 20, 2022
Technical information:
(202) 691-6378 • cpsinfo@bls.gov • www.bls.gov/cps
Media contact:
(202) 691-5902 • PressOffice@bls.gov
In 2021, the number of wage and salary workers belonging to unions continued to decline (-241,000) to 14.0 million, and the percent who were members of unions—the union membership rate—was 10.3 percent, the U.S. Bureau of Labor Statistics reported today. The rate is down from 10.8 percent in 2020—when the rate increased due to a disproportionately large decline in the total number of nonunion workers compared with the decline in the number of union members. The 2021 unionization rate is the same as the 2019 rate of 10.3 percent. In 1983, the first year for which comparable union data are available, the union membership rate was 20.1 percent and there were 17.7 million union workers.

These data on union membership are collected as part of the Current Population Survey (CPS), a monthly sample survey of about 60,000 eligible households that obtains information on employment and unemployment among the nation's civilian noninstitutional population age 16 and over. For further information, see the Technical Note in this news release.
Highlights from the 2021 data:
• The union membership rate of public-sector workers (33.9 percent) continued to be more than five times higher than the rate of private-sector workers (6.1 percent). (See table 3.)

• The highest unionization rates were among workers in education, training, and library occupations (34.6 percent) and protective service occupations (33.3 percent). (See table 3.)

• Men continued to have a higher union membership rate (10.6 percent) than women (9.9 percent). The gap between union membership rates for men and women has narrowed considerably since 1983 (the earliest year for which comparable data are available), when rates for men and women were 24.7 percent and 14.6 percent, respectively. (See table 1.)

• Black workers remained more likely to be union members than White, Asian, or Hispanic workers. (See table 1.)

• Nonunion workers had median weekly earnings that were 83 percent of earnings for workers who were union members ($975 versus $1,169). (The comparisons of earnings in this news release are on a broad level and do not control for many factors that can be important in explaining earnings differences.) (See table 2.)

• Among states, Hawaii and New York continued to have the highest union membership rates (22.4 percent and 22.2 percent, respectively), while South Carolina and North Carolina continued to have the lowest (1.7 percent and 2.6 percent, respectively). (See table 5.)
Industry and Occupation of Union Members
In 2021, 7.0 million employees in the public sector belonged to unions, the same as in the private sector. (See table 3.)

Union membership decreased by 191,000 over the year in the public sector. The public-sector union membership rate declined by 0.9 percentage point in 2021 to 33.9 percent, following an increase of 1.2 percentage points in 2020. In 2021, the union membership rate continued to be highest in local government (40.2 percent), which employs many workers in heavily unionized occupations, such as police officers, firefighters, and teachers.

The number of union workers employed in the private sector changed little over the year. However, the number of private-sector nonunion workers increased in 2021. The private-sector unionization rate declined by 0.2 percentage point in 2021 to 6.1 percent, slightly lower than its 2019 rate of 6.2 percent. Industries with high unionization rates included utilities (19.7 percent), motion pictures and sound recording industries (17.3 percent), and transportation and warehousing (14.7 percent). Low unionization rates occurred in finance (1.2 percent), professional and technical services (1.2 percent), food services and drinking places (1.2 percent), and insurance (1.5 percent).

Among occupational groups, the highest unionization rates in 2021 were in education, training, and library occupations (34.6 percent) and protective service occupations (33.3 percent). Unionization rates were lowest in food preparation and serving related occupations (3.1 percent); sales and related occupations (3.3 percent); computer and mathematical occupations (3.7 percent); personal care and service occupations (3.9 percent); and farming, fishing, and forestry occupations (4.0 percent).
Selected Characteristics of Union Members
In 2021, the number of men who were union members, at 7.5 million, changed little, while the number of women who were union members declined by 182,000 to 6.5 million. The unionization rate for men decreased by 0.4 percentage point over the year to 10.6 percent. In 2021, women's union membership rate declined by 0.6 percentage point to 9.9 percent. The 2021 decreases in union membership rates for men and women reflect increases in the total number of nonunion workers. The rate for men is below the 2019 rate (10.8 percent), while the rate for women is above the 2019 rate (9.7 percent). (See table 1.)

Among major race and ethnicity groups, Black workers continued to have a higher union membership rate in 2021 (11.5 percent) than White workers (10.3 percent), Asian workers (7.7 percent), and Hispanic workers (9.0 percent). The union membership rate declined by 0.4 percentage point for White workers, by 0.8 percentage point for Black workers, by 1.2 percentage points for Asian workers, and by 0.8 percentage point for Hispanic workers. The 2021 rates for Whites, Blacks, and Hispanics are little or no different from 2019, while the rate for Asians is lower.

By age, workers ages 45 to 54 had the highest union membership rate in 2021, at 13.1 percent. Younger workers—those ages 16 to 24—had the lowest union membership rate, at 4.2 percent.

In 2021, the union membership rate for full-time workers (11.1 percent) continued to be considerably higher than that for part-time workers (6.1 percent).
Union Representation
In 2021, 15.8 million wage and salary workers were represented by a union, 137,000 less than in 2020. The percentage of workers represented by a union was 11.6 percent, down by 0.5 percentage point from 2020 but the same as in 2019. Workers represented by a union include both union members (14.0 million) and workers who report no union affiliation but whose jobs are covered by a union contract (1.8 million). (See table 1.)
Earnings
Among full-time wage and salary workers, union members had median usual weekly earnings of $1,169 in 2021, while those who were not union members had median weekly earnings of $975. In addition to coverage by a collective bargaining agreement, these earnings differences reflect a variety of influences, including variations in the distributions of union members and nonunion employees by occupation, industry, age, firm size, or geographic region. (See tables 2 and 4.)
Union Membership by State
In 2021, 30 states and the District of Columbia had union membership rates below that of the U.S. average, 10.3 percent, while 20 states had rates above it. All states in both the East South Central and West South Central divisions had union membership rates below the national average, while all states in both the Middle Atlantic and Pacific divisions had rates above it. (See table 5 and chart 1.)

Ten states had union membership rates below 5.0 percent in 2021. South Carolina had the lowest rate (1.7 percent), followed by North Carolina (2.6 percent) and Utah (3.5 percent). Two states had union membership rates over 20.0 percent in 2021: Hawaii (22.4 percent) and New York (22.2 percent).

In 2021, about 30 percent of the 14.0 million union members lived in just two states (California at 2.5 million and New York at 1.7 million). However, these states accounted for about 17 percent of wage and salary employment nationally.
Coronavirus (COVID-19) Pandemic Impact on 2021 Union Members Data
Union membership data for 2021 continue to reflect the impact on the labor market of the coronavirus (COVID-19) pandemic. Comparisons with union membership measures for 2020, including metrics such as the union membership rate and median usual weekly earnings, should be interpreted with caution. The onset of the pandemic in 2020 led to an increase in the unionization rate due to a disproportionately large decline in the number of nonunion workers compared with the decline in the number of union members. The decrease in the rate in 2021 reflects a large gain in the number of nonunion workers and a decrease in the number of union workers. More information on labor market developments in recent months is available at:

www.bls.gov/covid19/effects-of-covid-19-pandemic-and- response-on-the-employment-situation-news-release.htm.


*---------*---------*---------*---------*---------*---------*
*---------*---------*---------*---------*---------*---------*
Resources for Resisting Federal Repression
Since June of 2020, activists have been subjected to an increasingly aggressive crackdown on protests by federal law enforcement. The federal response to the movement for Black Lives has included federal criminal charges for activists, door knocks by federal law enforcement agents, and increased use of federal troops to violently police protests.
The NLG National Office is releasing this resource page for activists who are resisting federal repression. It includes a link to our emergency hotline numbers, as well as our library of Know-Your-Rights materials, our recent federal repression webinar, and a list of some of our recommended resources for activists. We will continue to update this page.
Please visit the NLG Mass Defense Program page for general protest-related legal support hotlines run by NLG chapters.
Emergency Hotlines
If you are contacted by federal law enforcement you should exercise all of your rights. It is always advisable to speak to an attorney before responding to federal authorities.
State and Local Hotlines
If you have been contacted by the FBI or other federal law enforcement, in one of the following areas, you may be able to get help or information from one of these local NLG hotlines for:
National Hotline
If you are located in an area with no hotline, you can call the following number:
Know Your Rights Materials
The NLG maintains a library of basic Know-Your-Rights guides.
WEBINAR: Federal Repression of Activists & Their Lawyers: Legal & Ethical Strategies to Defend Our Movements: presented by NLG-NYC and NLG National Office
We also recommend the following resources:
Katya Komisaruk
*---------*---------*---------*---------*---------*---------*


*---------*---------*---------*---------*---------*---------*
*---------*---------*---------*---------*---------*---------*
*---------*---------*---------*---------*---------*---------*
1)
Shootings aren't a sign America is 'broken'. It's working exactly as intended
By Ryan Busse, May 25, 2022
https://www.theguardian.com/commentisfree/2022/may/25/shootings-arent-a-sign-america-is-broken-its-working-exactly-as-intended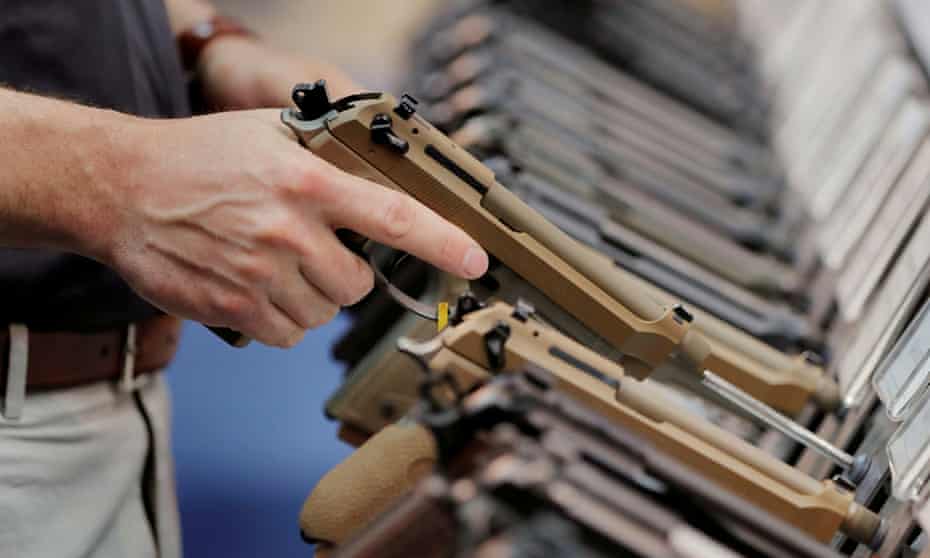 I was a firearms exec for years. The industry used to adhere to self-imposed rules and norms – until gun makers and lobby groups like the NRA realized fear and extremism sold more guns.
After the horrific mass murders in Buffalo and Uvalde, Americans are hearing a familiar chorus emanating from the cable networks. Every host and guest seems shocked. They search for the right words.
Eventually, their message becomes almost universal: Something is horribly broken in a country that allows troubled young men to arm themselves to the teeth and kill innocent people – especially young children. Social media explodes, expressing a version of the shock that the first lady, Jill Biden, expressed after the murders in Uvalde – "Stunned. Angry. Heartbroken."
I too am angry and heartbroken. But I am not stunned, and I don't believe anything is broken. The truth is that Americans now live within an escalating system of radicalized gun tragedy that is working exactly as expected.
I know. For more than two decades, I worked in the highest levels of the firearms industry. I spent my career working to hold on to the principles of responsible gun ownership and fighting against the very predictable results of increasing extremism and the pursuit of profit above all else.
I wrote my book Gunfight about the truth of what the industry has become and about my life fighting it from the inside. Today I'm a senior adviser to the gun violence prevention group founded by former congresswoman Gabby Giffords – not a career path I thought I'd have when I first started out in the firearms industry, but one that felt very necessary to me given what I experienced.
For the first few years of my career, which started in 1995, the industry adhered to self-imposed rules and norms – such as restricting tactical gear like that worn by the Buffalo and Uvalde shooters to the law enforcement and military sections of trade shows. Even up until about 15 years ago, self-imposed policies like this were strictly enforced by the industry's own trade association, the National Shooting Sports Foundation (NSSF). Industry norms prohibited displaying tactical gear, certain marketing campaigns or incendiary firearms names, for fear of what might spread throughout the country.
But as the increasing vitriol of the National Rifle Association (NRA) proved politically effective, some in the gun business realized this messaging could be adopted by the firearms industry to sell more guns. All that was required for success was a dedication to frighteningly dangerous rhetoric and increasingly powerful weaponry. Cultural norms and responsibility would have to go.
Advertisement
The extreme risks and likely outcomes of such an experiment seemed obvious to me and to others. I refused to join the growing tactical market and worked to weaken the NRA behind the scenes. And I wasn't the only one.
A number of other people in the industry sounded their own alarms about the impacts of "terrorist rifles" and a nation with unlimited gun sales and insufficient responsibility. Those warnings resulted in the quick and very public loss of careers at the hands of the NRA and its growing radicalized troll army.
Everyone else got the message. Speaking up for responsibility was not to be tolerated. Unpleasantries like radicalized young men with too many guns were to be treated like diffuse pollution that could be dealt with by someone downstream. Even when unspeakable tragedies, such as the murders at Sandy Hook, were linked directly to shockingly irresponsible marketing campaigns that promised a metaphorical "man card" to any young man who purchased an AR-15, the NSSF opted to look the other way.
For years, the NSSF worked behind the scenes to criticize and marginalize people like me who spoke up. Today the organization openly attacks anyone who speaks out in support of gun safety. But it has nothing to say about Kyle Rittenhouse or armed men menacing the Michigan capital. So far there is silence from the NSSF and the NRA on the 10 Black Americans murdered in Buffalo and the 19 children and two teachers murdered in Uvalde.
The NSSF helped craft a new world of gun lobby extremism in which profits are all that matter. With the election of America's first Black president, the lobby embraced conspiracy-mongering, racism and fear campaigns. Gun sales soared from less than 8m guns in 2008 to more than 16m in 2016.
In 2016, the firearms industry was all-in on Donald Trump and even piped his 2017 American Carnage inauguration speech throughout the industry trade show like a religious ceremony. The industry celebrated because Trump was the perfect salesman for more guns. This system was simply being pushed to its next stage.
This Friday, Trump is scheduled to speak at the annual NRA convention in Houston – less than 300 miles from Uvalde. The convention hall will be full of NSSF industry members lining up to court Trump and his frenzied fans. The system continues to work just as it was designed by the NRA and NSSF; from their point of view, nothing about it is broken.
There is a reason why troubled 18-year-olds can buy assault rifles, body armor and high-capacity magazines. There is a reason why racism, conspiracies and increasingly dangerous idolatry infect parts of our country, and federal gun legislation has stalled time and time again. It's the gun lobby – the NRA, the NSSF and the politicians who are frightened of them.
The horrific murders of second- and third-graders are part of that system. It's time to rebuild it. We can all be safer from gun violence if we're willing to stand up to the gun lobby and the politicians who champion their dangerous extremism in pursuit of profits.
*---------*---------*---------*---------*---------*---------*
*---------*---------*---------*---------*---------*---------*
2)
It's Not Looking Too Good for Government of the People, by the People and for the People
By Jamelle Bouie, May 27, 2022
https://www.nytimes.com/2022/05/27/opinion/uvalde-senate-gun-control.html
Just another day at the store. Credit...Zack Wittman for The New York Times
The antislavery politicians of the 1840s and 1850s did not speak with a single voice.
Some opposed slavery for moral and religious reasons and hoped to wipe its terrible mark from the body politic of the United States. Some opposed slavery but denied that the federal government had any right to interfere with the institution in the 15 states where it persisted. They were committed to "free soil" in the West more than abolition in the South. Still others weren't concerned with slavery per se as much as they were fiercely opposed to Black migration from the South. They opposed slavery, and supported colonization, because it was the way to ensure that the United States would remain a "white man's democracy."
What tied the antislavery factions of American politics to one another wasn't a single view of slavery or Black Americans but a shared view of the crisis facing the American republic. That crisis, they said in unison, was the "slave power."
The "slave power" thesis was the belief that a slaveholding oligarchy ran the United States for its own benefit. It had ruled the nation for decades, went the argument, and now intended to expand slavery across the continent and even further into the North.
The "slave power" thesis was also a claim about the structure of American government itself. As these antislavery politicians saw it, "the real underpinnings of southern power were regional unity, parity in the Senate, and the three-fifths clause of the Constitution," the historian Leonard L. Richards writes in "The Slave Power: The Free North and Southern Domination, 1780 to 1860." Together, this gave the slaveholding oligarchs of the South a virtual lock on much of the federal government, including the Supreme Court. "Between Washington's election and Lincoln's," Richards points out, "nineteen of the thirty-four Supreme Court appointees were slaveholders."
For antislavery politicians, the counter-majoritarian institutions of the American system enabled a faction that threatened democracy. The question of the "slave power," then, was ultimately one of self-government.
The "slaveholding interest" is "resolved upon the dethronement of the principles of republicanism and the establishment in their stead of an oligarchy, bound together by a common interest in the ownership of slaves," declared the men who gathered in Pittsburgh on Feb. 22, 1856, for one of the first national meetings of the Republican Party. "The time draws nigh, fellow-countrymen, when you will be called on to decide upon the policy and principles of the General Government." Your votes, they continued, "will determine whether Slavery shall continue to be the paramount and controlling interest in the Federal Administration, or whether other rights and other interests shall resume the degree of consideration to which they are entitled."
You've probably guessed by now that this is not an idle history lesson. I am thinking about "the slave power" because I am thinking about the ways that narrow, destructive factions can capture the counter-majoritarian institutions of the American system for their own ends. I am thinking of how they can then use the levers of government to impose their vision of society and civil life against the will of the majority. And I am thinking of this in the context of guns, gun violence and the successful movement, thus far, to make the United States an armed society.
Two weeks ago, a gunman killed 10 people at a grocery store in Buffalo. Three days ago, a gunman killed 21 people, including 19 children, at an elementary school in Uvalde, Texas.
Although there has been, in the wake of both atrocities, the requisite call for new gun control laws, no one believes that Congress will actually do much of anything to address gun violence or reduce the odds of gun massacres. The reason is that the Republican Party does not want to. And with the legislative filibuster still in place (preserved, as it has been for the past year, by at least two Democratic senators), Senate Republicans have all the votes they need to stop a bill — any bill — from passing.
The filibuster, however, is only one part of the larger problem of the capture of America's political institutions by an unrepresentative minority whose outright refusal to compromise is pushing the entire system to a breaking point.
Large majorities of Americans favor universal background checks, bans on "assault-style" weapons, bans on high-capacity magazines and "red flag" laws that would prevent people who might harm themselves or others from purchasing guns.
But the American political system was not designed to directly represent national majorities. To the extent that it does, it's via the House of Representatives. The Senate, of course, represents the states. And in the Senate (much to the chagrin of many of the framers), population doesn't matter — each state gets equal say. Fifty-one lawmakers representing a minority of voters can block 49 lawmakers representing a majority of them (and that's before, again, we get to the filibuster).
Add the polarization of voters by geography — a rural and exurban Republican Party against an urban and suburban Democratic Party — and the picture goes from bad to perverse. Not only can Republicans, who tend to represent the most sparsely populated states, win a majority of the Senate with far less than a majority of votes nationally, but by using the filibuster, a small number of Republican senators representing an even smaller faction of voters can kill legislation supported by most voters and most members of Congress.
The Senate might have been counter-majoritarian by design, but there is a difference between a system that tempers majorities and one that stymies them from any action at all. We have the latter, and like Congress under the failed Articles of Confederation, it makes a mockery of what James Madison called the "republican principle," which is supposed to enable a majority of the people to defeat the "sinister views" of a minority faction by "regular vote."
Rather than suppress the "mischiefs of faction," our system empowers them. Few Americans want the most permissive gun laws on offer. But those who do have captured the Republican Party and used its institutional advantages to both stop gun control and elevate an expansive and idiosyncratic view of gun rights to the level of constitutional law.
The result is a country so saturated in guns that there's no real hope of going back to the status quo ante. If anything, American gun laws are poised to get even more permissive. If the Supreme Court rules as expected in New York State Rifle & Pistol Association v. Bruen, it will strike down a law that requires a license for carrying a concealed firearm.
Whether or not the public wants a world of ubiquitous firearms, the conservative majority on the court — which Americans have never voted for and which would not exist without the counter-majoritarian institutions that gave Donald Trump the White House and the Republican Party a Senate majority — seems ready to impose one.
Over the years, historians have been divided on the "slave power" thesis. Some have dismissed it, pointing to the lurid conspiracism of its most fringe proponents. Others have held it at arms length, treating it as an instance of the paranoid style in American politics. And still others have tried to steer a middle course of affirming the big picture while challenging the details.
The slaveholding South may not have been as politically unified as charged, but the institutions of American democracy were slanted toward slaveholders, who really did capture the state for their own ends. As much as possible, they used the power of the federal government to further their interests and stymie opposition, with the help of a like-minded majority on the Supreme Court that did not hesitate to act on their behalf.
What must be understood is that the institutions that enabled this subversion of self-government are still with us, a practically indissoluble part of our constitutional order. To say that it is possible for a narrow faction of ideologues to weaponize the counter-majoritarian features of our system against the "republican principle" is, basically, to describe the current state of our democracy. It is, in other words, to state the crisis.
*---------*---------*---------*---------*---------*---------*
*---------*---------*---------*---------*---------*---------*
3)
America Kills Our Enemies in Our Name. And Then Keeps It Secret.
By Phil Klay, May 27, 2022
Mr. Klay is a Marine Corps veteran and an author.
https://www.nytimes.com/2022/05/27/opinion/us-military-targeted-killings.html
Masha Foya
Death came via teddy bear. Specifically, a six-foot-tall plush panda bear, special ordered in 2017 by a Colombian gang leader known as Inglaterra. His girlfriend's birthday was coming up; perhaps he wanted to surprise her with it. But the Colombian military got word of the order and tracked the bear to a luxurious farm near the Venezuelan border.
Inglaterra had been traveling by mule, draped in jewels and gold, wearing designer watches, rarely staying anywhere for more than a single night. When he arrived at the farm, 40 Colombian commandos quickly followed. Surprise.
I'd first heard the story when I was researching a novel about America's long-running assistance with targeted killings in Colombia and a friend sent me a Colombian newspaper link. He asked me if I detected the hidden hand of America anywhere in Inglaterra's death.
I thought of that story again this month, first when it was reported that the United States was helping Ukraine kill Russian generals, and again when The Times reported that the troops President Biden had ordered back into Somalia would help maintain an assassination program targeting a small cadre of Somali leaders. In both cases many details remain unclear, with much of the public knowledge coming from anonymous officials feeding information to newspapers rather than a public rollout of a new U.S. foreign policy.
One of the many strange things about being an American citizen these days is that there's a whole lot of killing done in our name that our government deliberately keeps secret. Friends of mine, back from Iraq or Afghanistan, used to respond to people asking the inappropriate question veterans always get, "Did you kill anyone?" with the sharp-elbowed response, "If I did, you paid me to do it — " a rough reminder of the link between the military and the citizens they represent. But back then, the actions of our military were much more visible. What does it mean to be a citizen of a state that kills for you but doesn't tell you about it? Are you still responsible?
When I was a public affairs officer in the Marine Corps from 2005 to 2009, back during the era of massive antiwar protests, an activist group taking out a full-page ad in The New York Times to attack the credibility of a U.S. general led to spirited debates about everything from the morality of the war to the wisdom of its strategy. The main efforts of the American military in this period were conducted in the open, and my job entailed courting journalists to embed with our units to see what they were doing.
This relative openness meant the war provoked messy debate, political grandstanding, lies and hypocrisy and ill-informed analysis on cable news, and other byproducts of democracy. It also meant that the George W. Bush administration had to explain and defend its policies, which meant that I knew what we were supposed to be fighting for, what success was meant to look like, and why we were there. It meant political pressure brought to bear on U.S. policymaking to keep it tethered to the will of the American people.
But the nature of war shifted, for political and military reasons. One way of describing the change is to look at the pace of American Special Operations. In the spring of 2004 the Joint Special Operations Command was conducting about six operations a month in Iraq. By the summer of 2006 they were doing 300. This didn't happen by sending the Navy SEALs to the gym to work on their run time, but by rehauling the whole process of finding targets, fixing them in place, finishing them, exploiting and analyzing the intelligence collected, and then disseminating that intelligence to the agencies and commands able to most rapidly act on it. It was this capability that former Secretary of Defense Bob Gates claimed in 2011 fused "intelligence and operations in a way that just, I think, is unique in anybody's history."
When Americans think about the killing we do overseas, we often think about the mechanism. A drone delivering a bomb strikes us as a bit creepy. A member of the Navy SEALs bursting into a bad guy's compound strikes us as heroic. But the SEALs and the drone are just tools — the flat head and Phillips head screwdriver at the end of the targeting system. And the initial parts of that system can be offered to other countries, like Ukraine, which do the killing themselves. (In a press briefing on May 5, the Pentagon press secretary, John Kirby, distanced the United States only slightly from the killing of Russian generals: "We do not provide intelligence on the location of senior military leaders on the battlefield or participate in the targeting decisions of the Ukrainian military," he said, but he freely admitted we provide Ukraine with relevant intelligence.)
What does this look like in practice? Thanks in part to reporting by The Washington Post's Dana Priest, we can look to Colombia for several examples. Starting in 2007 we helped kill dozens of guerrilla commanders in Colombia's long-running civil war. The C.I.A. trained Colombian close air support teams to use lasers to guide smart bombs to their targets, and trained interrogators to more effectively question subjects so that their information could be fed into an evolving database of information. The National Security Agency worked round the clock feeding data intercepts to ground forces.
In one instance, the F.B.I. and the Drug Enforcement Administration helped trace a satellite phone call between Hugo Chávez and a senior guerrilla leader. This intelligence was checked against information from a Colombian informant. The leader was located in a camp inside Ecuador. U.S. national security lawyers ruled the strike permissible as an act of self-defense. The U.S. provided the Colombians with smart bombs and the Colombians flew three light attack aircraft loaded with those smart bombs, followed by five planes loaded with conventional bombs. The bombs' guidance system was turned on once they closed in on their target, and Colombians dropped first the smart bombs, and then the conventional bombs to cover their tracks. The decision to provide U.S. support, made and justified by officials and lawyers whose names we still don't know, in a complex conflict most Americans have no idea the United States has been heavily involved in, set off a diplomatic crisis between Ecuador, Venezuela, and Colombia.
And since lethal precedents can outlast the causes for which they were enlisted, the aid to Colombia didn't stop once the official war did. After the rebels signed a peace treaty in 2016, U.S. foreign aid continued to grow, now approaching half of a billion dollars a year. Instead of targeting guerrilla fighters as part of a continuing war, the Colombian military took over a police action against a large drug gang of which Inglaterra was a member, and at points the United States has provided real-time intelligence.
This style of warfare has always been secretive, involving as it does intelligence services and Special Operations units. But as America shifted from large deployments to more reliance on drones and airstrikes and special operators, that secretive side of warfare became a larger share of our global military presence. Then Donald Trump took office and, responding to a nation skeptical of our wars but still thrilled by the idea of targeted killings, he expanded the already ballooning Special Operations Command at a pace its former commander described as "frantic" — training forces in countries on Russia's borders, policing weapons of mass destruction, combating the Taliban, Al Shabab, ISIS, and Al Qaeda while also rolling back transparency. Trump's Department of Defense wouldn't disclose troop numbers, details of airstrikes, or even give regular press briefings at the Pentagon. And as yet the Biden administration has not offered much more clarity on their counterterrorism policies either.
The rationale for keeping us in the dark is always national security concerns, and there are real risks. Revelations about targeting Russian generals might invite retaliation. Exposing granular detail on operations puts sources and methods in jeopardy. But secrecy also hides issues of public concern from public scrutiny.
As for President Biden's plans for American forces in Somalia, it's not clear why the administration thinks Al Shabab, which doesn't operate much outside the Horn of Africa, represents a threat to the United States. It's not clear how this operation fits into our larger counterterrorism strategy, what the legal rationale is for conducting targeted killings, and what rules will govern the strikes.
This last piece is particularly important. The recent Pulitzer Prizing-winning journalism led by Azmat Khan has shown that U.S. government reports on our strikes routinely failed to detect civilian casualties, investigate on the ground, identify causes of errors in targeting, or discipline anyone for wrongdoing. These failures have consequences: a father watching the headless corpse of his 14-month-old daughter, nestled in her dead mother's arms, lifted from the ruins of his home. An extended family of 21 people turned into "just pieces of meat." The current level of secrecy practiced by the U.S. military demands a level of trust that is unearned. The victims of these strikes demand our skepticism.
When our president declares, as Mr. Biden did to the United Nations in September, "I stand here today for the first time in 20 years with the United States not at war," it's not just a pleasant falsehood it'd be pretty to believe. It's something more corrosive.
War — the killing of other people on our behalf, as citizens — is the most morally consequential thing a nation can do. As Americans, we should take that responsibility seriously. Congress should debate it, and Americans should as well. None of that can happen if year after year, lethal strike after lethal strike, the needs of national security are invoked to hide it from view.
Every April we pay our taxes, and if there are men and women out there who we're paying to kill people, we should know.
*---------*---------*---------*---------*---------*---------*
*---------*---------*---------*---------*---------*---------*
4)
It's Still Covid's World. We're Just Living In It.
By Farhad Manjoo, May 26, 2022
https://www.nytimes.com/2022/05/26/opinion/covid-variants-summer.html
Johannes Eisele/Agence France-Presse — Getty Images
There are days, now, when you can almost forget about the virus. Hundreds of thousands of people around the world are still being infected with Covid-19 daily — an average of about 361 Americans died from it every day in the last week — but after more than two years and millions of lost lives, the pandemic has given way in headlines and breaking-news crawls to older and more familiar atrocities.
Across much of the United States the rhythms of life have returned to something like their prepandemic tempo. Bars and restaurants are packed, there's a wedding boom, and Memorial Day weekend looks likely to kick off a busy summer travel season.
But remember how giddy we all were for a virus-free summer last year? It was in May 2021 that officials at the Centers for Disease Control and Prevention advised that Americans who had been vaccinated could take off their masks and forget about social distancing in most settings. Then, during a successful campaign to vaccinate millions of Americans, the White House began preparing a Fourth of July bash to declare a "summer of freedom" from the virus.
You know how that turned out. America's vaccination rate was too low, and just when we thought we'd licked it, Covid wriggled free. First the Delta variant spread widely, then Omicron and its many subvariants. Masks were ordered back on. Boosters were soon recommended for people over 12. And in the year since what was once billed "hot vax summer," about 400,000 more Americans died from Covid-19.
This is not a column about the dangers of prematurely declaring victory against the pandemic. Few American health officials are urging anything but caution and vigilance now.
But last summer's rapid Covid turnabout does illustrate a dynamic that I worry we have yet to internalize: Any peace we've reached with the virus may be only a temporary, uneasy one. It seems likely that, at least for the foreseeable future, our lives may continue to be upended by the whims of this wily, unpredictable virus, until we can advance against it.
And it isn't just our health that's at stake. I worry that Covid's very unpredictability could inject volatility into global affairs. It's been remarkable to watch how the zigs and zags of the pandemic era have confounded not just public health officials and the Biden administration, but also the Federal Reserve, the Chinese government, hedge funds and some of the world's largest businesses.
How can humanity effectively plan for the future if the virus keeps pulling the rug out from under us? From the beginning of the pandemic we've heard about adjusting to a "new normal," but Covid's malleability suggests it may not be just one new normal we'll have to get used to. And as long as the virus keeps swerving in unpredictable directions, it may continue to rock our politics, shock our economy and hinder our ability to work collectively to address every other major problem humanity faces, especially global threats like climate change.
The basic problem is that especially since the emergence of the Omicron variant, it has become painfully clear that while vaccines prevent severe illness and death, research shows that even vaccinated people can keep getting sick from Covid-19. The elderly, unvaccinated, immunocompromised and others at high risk may continue to face greater danger.
Even though far fewer people are becoming seriously ill from the virus than at its peak, consider the level of disruption to daily life that we may continue to face — the labor shortages brought on by sickness, burnout and overwork, the toll of stress and psychological fatigue on a population that has had little respite from the ever-present danger of disease.
And because the effects of the virus will play out in different ways in different parts of the world, the disruptions could ripple erratically across the globe. China's troubled zero-tolerance approach to fighting Covid has snarled ports in Europe and the United States and forced some carmakers to suspend production.
Of course, it isn't just the virus that has undermined global stability. Russia's invasion of Ukraine and extreme weather exacerbated by climate change are also roiling the world's economy.
But look at just about any economic story these days and you'll see the pandemic playing some mischief. Robert Califf, the commissioner of the Food and Drug Administration, told a House panel this week that a Covid-19 outbreak caused a delay in the agency's inspection of the Abbott Nutrition plant implicated in the national shortage of baby formula. Another lapse was "likely due to Covid-19 staffing issues" in the F.D.A. mailroom, Califf wrote.
Eventually the world will adapt to Covid's tricks. Nasal vaccines that are now in clinical trials may be able to curb transmission of the virus, which could deal a blow to Covid's many variants. Wider access to therapeutic drugs could make catching Covid less risky and disruptive. And after a few years perhaps the virus's waves may settle into a seasonal pattern that we could adapt to living with.
Over the next few years, though, we may be in for a bumpy Covid ride. New variants have proven more contagious. People are burned out on doing much to avoid it. And we have no idea what the next variant may unleash upon a world already thoroughly pummeled by the disease.
*---------*---------*---------*---------*---------*---------*
*---------*---------*---------*---------*---------*---------*
5)
Cockroach Reproduction Has Taken a Strange Turn
In response to pesticides, many cockroach females have lost their taste for sweet stuff, which changes how they make the next generation of insects.
By Jason Bittel, May 27, 2022
https://www.nytimes.com/2022/05/27/science/cockroach-sugar-sex.html?action=click&module=Well&pgtype=Homepage&section=Science
A male cockroach, right, attracting a female cockroach with a fat-and-sugar mix extruded from the tergal gland. Some female cockroaches are becoming immune to this practice. Credit...Ayako Wada-Katsumada
When a male cockroach wants to mate with a female cockroach very much, he will scoot his butt toward her, open his wings and offer her a homemade meal — sugars and fats squished out of his tergal gland. As the lovely lady nibbles, the male locks onto her with one penis while another penis delivers a sperm package.
If everything goes smoothly, a roach's romp can last around 90 minutes. But increasingly, cockroach coitus is going really, weirdly wrong, and is contributing to roach populations in some places that are more difficult to vanquish with conventional pesticides.
Back in 1993, scientists working at North Carolina State University discovered a trait in the German cockroach, a species that inhabits every continent except Antarctica. Specifically, these new cockroaches seemed to have no affection for a form of sugar called glucose, which was strange because — as anyone who has ever battled against a cockroach infestation knows — cockroaches normally cannot get enough of the sweet stuff.
So, where did these new, health-conscious cockroaches come from?
It seems we created them by accident, after decades of trying to kill their ancestors with sweet powders and liquids laced with poison. The cockroaches that craved sweets ate the poison and died, while cockroaches less keen on glucose avoided the death traps and survived long enough to breed, thus passing that trait down to the next cockroach generation.
"When we think of evolution, we usually imagine wild animals, but actually, it's also happening with small animals living in our kitchens," said Ayako Wada-Katsumata, an entomologist at North Carolina State University.
Dr. Wada-Katsumata and her colleagues have just introduced yet another wrinkle to the cockroach's story: According to a study published this month in the journal Communications Biology, the same trait that might help a female cockroach avoid sweet-tasting poison baits also makes her less likely to stick around and mate with normal cockroach males.
This is because cockroach saliva is capable of rapidly breaking down complex sugars, like those found in the male's courtship offering, and turning them into simple sugars, such as glucose. So when one of these glucose-averse females takes a bite of the male's nuptial gift, it literally turns bitter in her mouth, and she bolts before he can complete the double barrel lock-and-pop maneuver.
"Great!" you may be thinking. "The fewer cockroach hookups, the fewer infestations we'll have." Not so fast, said the researchers.
"As to how this will affect the population, it's really complicated," said Dr. Wada-Katsumata.
That's because, despite the hang-ups, glucose-averse cockroaches still find ways to do the deed.
In lab experiments, Dr. Wada-Katsumata and her colleagues showed that glucose-averse females are more skittish of males than wild-type cockroaches, which is what the researchers call the roaches without glucose aversion. However, they also found that glucose-averse males seem to compensate for this by more rapidly transitioning into sex after offering his gift.
"The glucose-averse females might spend, say, three seconds feeding on the male's secretion," said Coby Schal, distinguished professor of entomology at North Carolina State and an author of the study. "The wild-type male does not respond in three seconds. The glucose-averse male does."
The researchers even have evidence that suggests that all of these new pressures are causing changes in the chemistry of the glucose-averse male's nuptial gift potentially so he can continue attracting females.
From a scientific perspective, the German cockroach's sugar saga shows how humans can drive both natural selection — the cockroaches that survive our poison traps — as well as sexual selection — the glucose-averse cockroaches who no longer want to mate with cockroaches that still offer sweet snacks.
"I think that's what makes this so compelling," Dr. Schal said. "The idea that humans impose very strong selection on animals around us, especially inside our home, and that the animals respond not only with physiological changes, but also with behavioral changes."
The good news for consumers is that pesticide manufacturers share Dr. Wada-Katsumata and Dr. Schal's enthusiasm for understanding cockroach evolution, and they are actively changing their cockroach-killing formulations to move away from glucose. But given how new this research is, it will take some time for those changes to make their way to the products on our shelves.
"The worst thing that you can have as a product is a bait that is not eaten by cockroaches," said Dr. Schal.


*---------*---------*---------*---------*---------*---------*
*---------*---------*---------*---------*---------*---------*
6)
Uvalde Police Didn't Move to Save Lives Because That's Not What Police Do
—The Intercept, May 27, 2022
https://theintercept.com/2022/05/27/uvalde-texas-shooting-police-law-enforcement/
Law enforcement authorities and other officials attend a press conference on May 26, 2022, in Uvalde, Texas. Photo: Eric Thayer/Getty Images
THE MORE DETAILS that emerge about how police responded to the massacre in an elementary school in Uvalde, Texas, on Tuesday, the clearer it is that the already well-funded, heavily armed and amply trained law enforcement officers on the scene failed to save the lives of 19 children and two of their teachers.
Here's what we know so far, based on haunting videos from the scene outside Robb Elementary School and statements from police officials themselves. Salvador Ramos murdered 21 people. Despite earlier, misleading claims from law enforcement officials, it appears that no police officers engaged with the shooter before he entered the school. Instead of rushing in to protect the children and staff when reports of a gunman approaching the school were made at 11:30 a.m., police instead waited outside and aggressively confronted parents who were begging them to enter. The parents were threatened with arrest — one cop brandished a Taser — as they attempted to access the school to save their kids themselves.
One mother who was urging the police to enter the building, Angeli Rose Gomez, was handcuffed. When she was released, she managed to run into the school, grab her kids, and bring them out to safety, which is the alleged job of the police. According to one Texas Department of Public Safety lieutenant interviewed by local news, some officers did run into the school — but only to grab their own children.
The Border Patrol SWAT team that eventually engaged with and killed the shooter — 40 minutes to an hour after first shots were reported — was not able to break down the door to the classroom where the killer was holed up with more children. A staff member had to unlock it with a key. According to the chilling firsthand account of a fourth grader in the room, cops told children to yell "if you need help"; when one little girl did, the gunman immediately shot her.
The police failed at protecting the schoolchildren, yes, but we should not be under the illusion that this is an example of the cops failing at their jobs. As far we can tell from reports, police at the scene acted as they usually do, in accordance with standard policing practice: Rather than risk a hail of gunfire to stop the killer, they kept themselves safe.
As Akela Lacy noted on Wednesday in The Intercept, the approach is not an outlier: "As the number of school resource officers has ballooned over the last two decades, so has the number of school shootings. There is no evidence that police have the ability to stop these shootings from happening."
THE BEHAVIOR OF the police at Robb Elementary is only shocking if you are committed to a mythic notion of what policing entails. The "thin blue line" does not, as reactionary narratives would have it, separate society from violent chaos. This has never been what police do, since the birth of municipal policing in slave patrols and colonial counterinsurgencies. The "thin blue line" instead separates those empowered by the state to uphold racial capitalism with violence, and to do so with impunity.
It is disgusting, not shocking, that police officers would sooner harass and handcuff parents — parents begging them to save their children from a massacre — than they would run in and put themselves in the line of fire. What is striking, though, is how inconceivable it is to so many people that policing is not, in fact, what they've been told it is by the police themselves, by those in power, and by the mainstream culture built around those mutually reinforcing myths.
Since police propaganda relies on the repetition of lies, certain corrective truths bear repeating too.
Being a police officer is not even among the top 10 most dangerous jobs in the U.S. Roofers, loggers, and delivery drivers all face greater risks to their lives at work. For the last two years in a row, the leading cause of death among cops, purportedly in the line of duty, is the coronavirus pandemic.
And cops don't solve most crimes. Only around 2 percent of major crimes are solved by police. Police also don't prevent crime, they criminalize: Ninety percent of the almost all Black people stopped under the New York Police Department's stop-and-frisk policy were not committing any crime at all. There's scant evidence that police surveillance reduces or prevents crime. What policing does do, however, is criminalize poverty and the communities of color forced to live in it.
In just the last month, the vast and wealthy army that is the NYPD failed to apprehend two shooters on the subway system — a system that crawls with cops and surveillance. When the first of these shooters was eventually taken into custody, thanks to the intervention of a civilian who spotted him, he was just blocks away from the site of a homeless encampment, which the police were busy destroying.
So what are cops up to? Katie May, writing on the All Cops Are Posters Substack, gathered the social media posts of the Uvalde Police Department to show that, rather than saving lives and risking their own, the Texas cops spend a considerable amount of their time arresting and caging desperate men, women, and children attempting to enter the U.S. through the southern border.
Even the Supreme Court affirmed in 2005 that police departments are not in fact obligated to provide protection to the public. Our safety is quite simply not what our tax dollars, endlessly funneled into glutted police departments, pay for. Meanwhile, it was two teachers who put their bodies in the line of fire and died trying to protect children during Tuesday's massacre.
As Patrick Blanchfield, author of the forthcoming "Gunpower: The Structure of American Violence," noted on Twitter, "U.S. police are trained to maximize control over situations while minimizing their personal risk. That translates into beating parents while a rampage shooter executes their children just as easily as it does their rolling up on a kid with a toy guy and executing him seconds later."
To be clear, this was not a question of funding or training: Police in the Uvalde school district had both.
THOSE OF US who have been calling for the defunding of police departments — indeed for police abolition in favor of real, collective public safety practices — have been treated by Democratic and Republican leaders and commentators alike as fanatical. In the face of decades, if not centuries of evidence exposing what the work of policing actually entails — and does not entail — the true ideologues are those committed to policing as a social solution.
It would be too generous to those in power to grant that they have simply been misled by copaganda. By insisting that we double down on policing, they make clear that they too uphold what the institution of policing defends: property, power, and racial hierarchy.
The police response to just this latest massacre of children is drawing rightful ire. Yet that alone is unlikely to turn the tides of political will when it comes to shattering the myth of policing. The lionization of the police is as deep seated as any American ideology — resistant to buckling under its own contradictions and obvious falsities. This is a country, after all, founded on genocide, slave labor, and universalist claims to equality for all. Violent contradictions should come as no surprise.
Those who have dismissed calls to defund the police as too radical ought to question their own convictions about policing. It should not take an event so devastating — with police behavior so counter to the task of saving lives — to break the spell of policing mythology.
*---------*---------*---------*---------*---------*---------*
*---------*---------*---------*---------*---------*---------*
7)
When the Cost of Liberty Is the Occasional Massacre
By Jamelle Bouie, May 28, 2022
https://www.nytimes.com/2022/05/28/opinion/republican-gun-texas.html
Ashley Gilbertson/VII/Redux
The gun was legal.
Under state law, the young man who killed 19 children and two teachers at an elementary school in Uvalde, Texas, was entitled to his guns. He bought his AR-platform rifles legally for his 18th birthday. He had no criminal record. He was, until the moment he shot his grandmother, a law-abiding citizen, the kind of person we are supposed to trust with high-powered firearms.
But this gets to the fundamental problem with the conservative idea that the only people with guns we have to worry about are the "bad guys." It's the idea that, as Senator Ted Cruz of Texas put it last year, after a gunman killed 10 people at a grocery store in Boulder, Colo.: "You go after violent criminals, you go after felons, you go after fugitives, you go after those with serious mental illness, you stop them from getting guns. And when they try to illegally buy a firearm from you, lock them up and put them in jail."
To the conservatives who posit a sharp distinction between "good guys with guns" and "bad guys with guns," law-abidingness is an inherent trait of a class of individuals. It is an ontological category; some people have it, others don't. Any form of gun control is verboten in this worldview because it could interfere with the ability of a "good guy" — of a "law-abiding citizen" — to obtain that to which he is entitled.
This is not how the world works. People are law-abiding until the moment they are not. They are "good guys" with guns until their circumstances and their choices make them "bad guys" with guns. And from the perspective of the person who sells guns and ammunition, there's no way to know whether a law-abiding customer will, at some point, become a criminal.
The most vociferous supporters of permissive gun laws seem to believe that an armed society will be, for the most part, self-regulating. That we will be able to keep weapons out of the hands of the wrong people and insofar as we can't, a law-abiding citizen will be there, with a gun, to stop the bad guys, whenever and wherever they appear.
But people don't exist on such a strict binary. And when we allow for the unlimited proliferation of weapons, we guarantee that when the switch flips, people will die.
If that is the cost of freedom — if our liberty demands the occasional massacre — then conservatives ought to make that case.
What I Wrote
My Tuesday column was on the recent CPAC event in Hungary and the anti-Americanism of the populist right.
"Of course, with its endemic corruption, repression of sexual minorities, de facto state control of media, constitutional manipulation and an electoral system designed to give supermajorities to the ruling party whether the votes are there or not, there is little that is democratic about Orban's democracy. For American conservatives, however, the degradation of Hungarian democracy is a feature, not a bug, of Orban's rule."
My Friday column used an analogy to the "slave power" thesis to think about the influence of the gun lobby in American politics.
"Rather than suppress the 'mischiefs of faction,' our system empowers them. Few Americans want the most permissive gun laws on offer. But those who do have captured the Republican Party and used its institutional advantages to both stop gun control and elevate an expansive and idiosyncratic view of gun rights to the level of constitutional law."
Also, the most recent episode of my podcast with John Ganz tackled the 1992 action thriller "Under Siege."
*---------*---------*---------*---------*---------*---------*
*---------*---------*---------*---------*---------*---------*
8)
It's Going to Be a Hot Summer. It Will Be Hotter if You're Not Rich.
By Anne Barnard, Corey Kilgannon, Jazmine Hughes and Emma Goldberg Photographs by Stephanie Mei-Ling, May 28, 2022
"...Robert Moses, the powerful parks commissioner, purposely built them in the hearts of white and Black neighborhoods, not on the edges, creating de facto white and Black pools."
https://www.nytimes.com/2022/05/28/nyregion/heat-waves-climate-change-inequality.html
The Betsy Head Pool in Brownsville, Brooklyn.
As summer begins, danger lurks behind New Yorkers' joy at getting back to beaches and parks. Blazing heat is expected to blanket most of the country, setting records as it has for several years running.
The Northeast is most likely to spike above average summer heat according to the National Oceanic and Atmospheric Administration. While the West battles drought and wildfires, in aging cities like New York, the climate crisis takes its most threatening form as pockets of heat that can suffocate and sudden downpours that can drown and destroy, both deadliest for the most vulnerable with the fewest options.
On scorching days the recipe for relief is simple: nature, cool water, books, a shady stoop. In New York, a city where life unfolds in public spaces, the ingredients are supposed to be available to all. Just as rich and poor share subways and sidewalks, anyone — in theory — can enjoy public pools, parks, libraries and tree-lined streets.
But in practice, these public spaces do not serve New Yorkers equally. As the planet heats and a lingering pandemic makes indoor gatherings risky, public places to stay cool and occupied become necessities, not just for recreation, but for health and safety.
That respite is often least available to those who need it most. All last summer, New York Times reporters roamed the city to see the disparities and how these differences affect people's lives. What they learned reveals clues about who will suffer most in this summer's expected heat waves, and how better policies could make the hot weather not just easier and more fun — but also less deadly.
In Crotona Park East in the Bronx, 41 percent of residents fall below the federal poverty line, 24 percent of households lack air-conditioning and few have cars to reach beaches or forests.
By contrast, in Carnegie Hill on the Upper East Side, one of the city's wealthiest, whitest sections, 96 percent of households are air-conditioned. So many residents have money and flexibility to flee the city that during the hottest weeks last summer, some streets felt empty; the advantages of nearby Central Park were left largely untapped.
Indoors, too, were stark divides. Public libraries are soothing refuges that double as emergency cooling centers. But wealthy SoHo, for instance, has a sleeker, better appointed library than the Washington Heights branch, where, on a sweltering July day, the air-conditioning was on the fritz.
Heat kills about 350 New Yorkers each year. But the risk is not shared equally. Black New Yorkers are more than twice as likely to die from heat as white residents, city data show.
Differences were compounded in the flash floods that hit the city after Hurricane Ida last August, another climate-driven hazard. The 11 city residents who died as storm water filled basement apartments lived in neighborhoods that were already more vulnerable to heat.
These are inequalities that New Yorkers see every day without always realizing their impact.
The city's pools are free. But the rules - no snacks, newspapers or even colored t-shirts - can feel draconian.
In areas where few can afford pricier summer activities, pools are crowded, with long lines.
"Locks out, bags open!" a Parks Department worker shouted. Shakema Edwards and her two young daughters stepped up. They had waited about an hour on the sun-baked street to get into the Betsy Head Pool in Brownsville, Brooklyn, one day last summer.
Ms. Edwards, 35, lifted her shirt to show the attendants that she had on a properly lined swimsuit. They searched her bag for what counts as contraband at the city's public pool decks: bottled drinks, snacks, newspapers, flotation devices, even colored T-shirts. Two police officers stood by, wearing bulletproof vests and armed with 9-millimeter pistols.
"It's not fancy," Ms. Edwards said. "But it's what we got."
The few white plastic chairs were taken, so she would have to settle for spreading a towel on the concrete pool deck. The elevated subway clattered by every few minutes. Bathers splashed in a crowded, roped-off area of the sprawling pool; the rest of it sat empty, a lifeguard explained, for lack of staff to watch it all safely.
Many wealthy New Yorkers — those with access to second homes, vacations, children's camps and road trips — have never been to a public pool. But 1.5 million people visit one of the city's roughly 50 outdoor pools every year, and for residents of modest means, disproportionately Black and brown, they are a summer staple.
New York still has less than one pool per 100,000 residents, fewer than most U.S. cities, with more per capita in the whitest, wealthiest boroughs, Manhattan and Staten Island, according to the Trust for Public Land. Black and Latino children still lag in access to swimming lessons and drown at higher rates.
"We don't own cars, so we can't drive to lakes and beaches and stuff," Jesse Amaro, a home health aide, said outside the Crotona Pool in the Bronx. It was on one of last summer's hottest days, and the line to get in stretched far down the sidewalk by early afternoon.
She surveyed the sun-beaten line of would-be bathers, their only relief a spray of mist from a hose looped around a street sign. It would take her and her small daughter an hour to get in, and then at 3 p.m., when pools close for an hour for cleaning and staff breaks, they would have to either end their swim or brave the line a second time to re-enter. Ms. Amaro, 46, decided to skip it. They headed home.
These struggles contrast with the glamorous ambitions of 1936, when the city opened its 11 largest pools. They were designed as extravagant bathing palaces for the masses, symbols of civic pride and public investment. During the New Deal, the federal government helped build these grand, elegant spaces for poor New Yorkers — mostly white back then — whose children often drowned trying to cool off in rivers.
But many New York pools, like others around the country, remained segregated. Some have claimed that Robert Moses, the powerful parks commissioner, purposely built them in the hearts of white and Black neighborhoods, not on the edges, creating de facto white and Black pools.
To deter unrest during the racial tensions of the late 1960s, the city began opening dozens of smaller pools in underserved, overheated Black and Latino neighborhoods.
Draconian policies, enacted decades ago in response to violence in the pools, continue to restrict what bathers can take onto pool decks, infusing the pools with what Ms. Amaro called "a prison-yard mentality."
After McCarren Park Pool, in Brooklyn, was shuttered in the 1980s for renovations, some white locals who had complained about the influx of Black and Latino crowds from outside the area supported keeping the pool closed.
When it finally reopened for swimming in 2012, numerous fights and arrests spurred new debates along racial lines.
Mark Focht, a deputy parks commissioner, said the city had recently sought to improve pools in the hottest, neediest areas. Sixteen aging pools across the city have received upgrades totaling nearly $5 million, he said, to create "the vibe of a country club or resort."
Also, some rules that "can feel restrictive" are being relaxed, he said. For example, the city now allows bottled water on pool decks and distributes bracelets at some busy times so guests can leave the line and come back later.
But the grandest pools still fall short of past glory. In Upper Manhattan one day last summer, crowds waited outside Highbridge Pool, where dancers in the movie "In the Heights" used bright inflatable floats (which, in real life, are banned in the pools). Yet much of the pool remained closed to swimmers because there weren't enough lifeguards.
Heat can be deadly in areas like Jamaica, Queens, which is dominated by heat-absorbing streets.
But in nearby Jamaica Estates, the sidewalks are lined with grass and trees, which reduce the heat.
Inconveniently located pools may not sound like an urgent problem, but climate change raises the stakes. The city's climate panel expects 57 days annually of at least 90-degree heat by 2050. Heat sends hundreds of New Yorkers to emergency rooms each year, killing some 350. Between 2000 and 2012, city data show, about half of those who died of heat-related causes were Black; half were from poor areas. Many who die fall ill at home.
As New York grew, poorer people — including waves of immigrants as well as Black Americans migrating north — ended up in less desirable, cheaper areas, places that tended to be hotter, lower-lying, landlocked, flood-prone or swampy. Racist redlining, zoning and spending policies brought more blacktop and pollution and fewer green spaces. Poor and Black and Latino New Yorkers are more likely to have health conditions that are exacerbated by heat, like asthma, heart disease and obesity.
On satellite maps, areas like Jamaica Estates — a district of large villas on shaded lawns in Queens that contrasts with neighboring streets of narrow rowhouses and few trees — stand out as green blotches in a sea of gray. Surface temperatures on the same day sometimes differ by 20 degrees or more between neighborhoods, or even blocks. In the Bronx, vegetation covers 63 percent of wealthy Riverdale; several neighborhoods to the south, in low-income Mott Haven, only 18 percent is green.
Trees cool the air as water evaporates from leaves. Simply seeing them, studies show, improves mental health, and shady streets invite exercise and social connection.
Experts are calling for speedier, wider coordinated action to save lives and shore up the city's future. An environmental and civic coalition, Forests for All, is pushing for a comprehensive plan for a canopy of trees to cover 30 percent of the city by 2035, up from 22 percent, mainly by adding trees where there are fewest.
"The urban forest is a critical resource, locally and globally," said Emily Maxwell of the Nature Conservancy, part of the coalition. "We want to expand it in a way that reaches our most heat-vulnerable communities."
While green space can be found around the city, a bulk of the funding goes to large parks in the city's wealthiest boroughs.
Parks that serve communities of color are more likely to lack basic services like trash pickup.
Residents flock to parks seeking shade but often find disappointment.
New Yorkers of color are more likely to be among the 33 percent with no park within a five-minute walk, and have less nearby park acreage per capita, according to New Yorkers for Parks, an advocacy group. The bulk of city funds supplementing tight Parks Department budgets goes to parks in Manhattan.
Playing with her two daughters at Crotona Park, Nicole Foster, 30, has noticed a decline since her childhood. Bits of litter floated atop scum on a pond where people used to kayak and fish. Soot covered the padlocked tennis courts. Paint was chipped, garbage uncollected.
"Somebody needs to put some money into this park," she said. "It's not as nice as it should be."
In another Bronx park, St. Mary's, in Mott Haven, Willie Neal, 54, had the opposite impression: Things had improved. Working out on gym equipment, he surveyed functioning tennis courts, fresh paint, a dog run, new benches and tables, and remarked, "It wasn't like this when I was younger."
While race, income and geography play a role, the stark differences among city parks have complex roots — making the problem hard to address equitably.
Crotona and St. Mary's serve similar neighborhoods: 40 percent poor and 96 percent Black and Latino. But only one, St. Mary's, got $50 million in improvements in the past five years, mostly from City Hall. Crotona Park got half as much in 13 years: $22 million from various city offices.
The Parks Department gets a small share of the city's budget, and individual parks try to win more from disparate sources — vying with one another and other community priorities.
"The city has not committed the amount of money to get a truly equitable parks system," said Adam Ganser, the executive director of New Yorkers for Parks.
In his three terms as mayor, Michael R. Bloomberg established a public-private system. Blockbuster parks, largely near central, high-income areas more likely to draw tourists, were lavished with money, even as they raised funds from affluent neighbors. Mayor Bill de Blasio continued the trend but also focused new attention on underserved parks with little recent investment.
According to Adrian Benepe, the parks commissioner under Mr. de Blasio, "This administration said, 'Let's stop waiting for manna to fall from heaven; let's get the city to allocate a huge pot of money and we'll invest it in these parks.'"
One initiative finances parks in dense neighborhoods that in the past 20 years received less than $250,000 in capital funding. The Anchor Park program channeled money to a single large park in each borough for major improvements. In the Bronx, St. Mary's was the jackpot winner. Crotona is still waiting.
As both candidate and mayor, Eric Adams declared that he would bolster parks spending to a new baseline, 1 percent of the city's budget, which would amount to around $1 billion. Instead, his proposed budget allocates about half that.
"Low-income and communities of color need green space, which is essential for mental well-being," said Shekar Krishnan, the chairman of the City Council's Committee on Parks and Recreation. Mr. Krishnan represents parts of Jackson Heights and Elmhurst, areas of Queens that were hit hardest by Covid; they also rank 50th out of 51 Council districts in green space. "The Council expects Mayor Adams will follow through with concrete actions that will fulfill the promise he made about parks budget."
The mayor's deputy press secretary, Charles Lutvak, said in an email that the budget represented "a down payment on his 'Percent for Parks' pledge," which will be achieved at some time during his mayoralty.
Libraries provide critical relief and services, but libraries in wealthier areas tend to be newer, with features like coffee shops and art.
Yet, even with more austere settings, people in poorer neighborhoods find comfort in the services provided by their library.
Libraries have always been havens, especially during heat waves, extending hours as official "cooling centers." But when the risk of shared indoor spaces during the pandemic complicated libraries' roles, the loss was hardest for those who rely most on public spaces.
When public libraries reopened fully last July after more than a year of tight restrictions, Kait Scalisi, 34, said she stood among the bookshelves of her local New York Public Library branch and cried.
"There's something magical about walking into a place that offers such escape and support," she said.
Her branch, in Washington Heights, is an austere brick building near a laundromat. It is not the city's fanciest, or its sparest.
Neighborhood life happens there. Students from public colleges do research; retirees read the news; toddlers hunt for "Daniel Tiger" books. People rely on the library for basic needs. Eliza Sepeda does homework there; her apartment is noisy, packed with younger siblings. Many come for Wi-Fi; close to 20 percent of nearby households lack internet service.
SoHo's Mulberry Street library building once housed a chocolate factory, as well as David Bowie's apartment. It has a trendy coffee-shop feel: exposed brick walls, sculptures made of old books, green upholstered chairs. But it also serves its neighbors. Visitors from across the city mix with wealthy SoHo residents and their nannies.
"We were nannyville before the pandemic," said Meghan Klaus, a children's librarian.
In Washington Heights, the library's work area is more utilitarian, with more computers after a 2014 renovation, but cooled on one particularly hot day only by electric fans. The temperature issue was rapidly resolved.
Anthony Suarez, an afternoon regular, likes the branch's modesty. Public libraries changed his life: In 2008, when he was homeless, he visited the sprawling Bronx Library Center to get online and meet people. He found a job counselor.
"Some of the other libraries are kind of 'bougie,'" Mr. Suarez, 60, said as he ordered equipment for his next new career, voice-over acting. "I like to go to libraries that are eclectic."
Stuart Miller contributed reporting.
*---------*---------*---------*---------*---------*---------*
*---------*---------*---------*---------*---------*---------*
9)
The U.S. Justice Department will review the law enforcement response to Uvalde shooting.
By Katie Benner, May 29, 2022
https://www.nytimes.com/2022/05/29/us/critical-review-texas-shooting-justice-department.html
U.S. Border Patrol agents and law enforcement outside Robb Elementary School during the shooting. Credit...Pete Luna/Uvalde Leader-News
The U.S. Justice Department said on Sunday that it will review the law enforcement response to the mass shooting in Uvalde, Texas, at the request of its mayor, Don McLaughlin.
"The goal of the review is to provide an independent account of law enforcement actions and responses that day, and to identify lessons learned and best practices to help first responders prepare for and respond to active shooter events," the Justice Department said in a statement.
Law enforcement agencies in Uvalde have faced withering criticism from parents and community leaders as it became clear that they did not intervene quickly to stop a teen gunman from murdering 21 people, including 19 children.
Although officers from the local Uvalde police, the county sheriff's department and the federal Border Patrol arrived at Robb Elementary School soon after a gunman arrived with the intent of murdering students and teachers, they were ordered not to storm the classrooms.
The Justice Department said that after its review it will publish a report with its findings.
Such reviews have been conducted in the past as part of the department's Collaborative Reform Initiative, which is designed to help police departments review and amend their operations and improve their relationships with local communities.
The program was recently revamped to increase the training and other services that the department offered to local law enforcement agencies seeking to address policing problems, such as bias, the use of excessive force and officer-involved shootings.
In general, reviews conducted under this initiative are not criminal investigations but a response to a request for help made by local governments to the Justice Department.
"It is a voluntary opportunity for an agency that knows it needs to make changes, and wants to make changes, to do just that," Attorney General Merrick B. Garland said in March, when he announced the revisions to the program that were meant to make it more collaborative with local police.
Other mass shootings that the Justice Department has looked at in its review of law enforcement agency responses have included the 2015 domestic terrorist attack in San Bernardino, Calif., and the 2016 attack on the Pulse nightclub in Orlando, Fla. — with an eye toward understanding how officers could have been better prepared and reacted to the attacks.
In general, these reviews aim to provide targeted technical assistance on topics such as officer safety and wellness, gun violence reduction and community engagement.
And they help law enforcement agencies grapple with the aftermath of high-profile catastrophes, like mass shootings, to analyze how they were handled and to make recommendations for change.
"As with prior Justice Department after-action reviews of mass shootings and other critical incidents, this assessment will be fair, transparent, and independent," the Justice Department said in a statement.
A criminal investigation into the Uvalde law enforcement response would not be opened unless evidence emerged that the officers involved violated the law.


*---------*---------*---------*---------*---------*---------*
*---------*---------*---------*---------*---------*---------*
10)
Asian and Black Communities Have a Long History of Shared Solidarity
Stories of loss, struggle, change and hope are the most powerful tools we have to understand one another and bridge what divides us.
Photographs by An Rong Xu, Text by Leslie Nguyen-Okwu, May 30, 2022
Mr. Xu is a photographer, filmmaker and artist. Ms. Nguyen-Okwu is a journalist and the author of the forthcoming book "American Hyphen."
https://www.nytimes.com/2022/05/30/opinion/asian-black-americans-community.html
Holly Yuen and Ashley Schloss, childhood friends. Ms. Yuen and Ms. Schloss grew up in Canarsie in Brooklyn. "Racism comes from not being open-minded and unwilling to see beyond your own kind, and that can discourage people from seeing the possibilities of unity," Ms. Yuen said.
The Asian civil rights movement was inspired in part by the Black civil rights campaigns of the 1960s. It was around this time that the model minority myth emerged, portraying Asian and Pacific Islander Americans as mostly hard-working, well educated and healthy, the artist and activist Betty Yu explained. "The model minority stereotype falsely depicts Asians as a wealthy Ivy League-educated monolith while completely ignoring the economic inequalities that exist to this day," she said.
As Americans reckon with racial injustice, police brutality and a spike in anti-Asian attacks, we have an opportunity to relearn our shared history and build on that solidarity.
I was living in Taiwan when George Floyd died after being handcuffed and pinned to the ground under a police officer's knee. I coped by helping to coordinate the Black Lives Matter March in Taipei. It was important to me to stand up for myself and my community and close the metaphorical distance between me and my home.
In New York City, Jeanie Jay Park, the lead organizer of Warriors in the Garden, a collective of nonviolent activists and the founder of Sanitation Nation, a nonprofit youth solidarity collective, was among the thousands marching on the Brooklyn Bridge that summer when a group of young boys approached her and yelled, "Your people killed my people." They were talking about an officer of Hmong descent who stood by while Mr. Floyd was murdered.
"I understood their reaction," she said. She has since worked to build intersectional solidarity between Black and Asian communities. Coalition building requires having uncomfortable conversations with not just ourselves but also our families in order to dismantle generational colorism and anti-Black sentiment that exists in many Asian cultures, Ms. Park said.
Nupol Kiazolu, the founder of We Protect Us, believes that practicing love, education and patience is the key to fostering unity between Black and Asian communities. "We must be willing to listen to each other with open minds, ears and hearts," she said.
Wendy Wang immigrated to the United States in the 1990s. She worked in restaurants around the city, until she was eventually able to open her own restaurant. She's faced obstacles in the community — someone once shot her husband in the face with a BB gun — but over time she's built strong relationships with the loyal customers she serves.
I come from a family of immigrants, too. My mother is from Vietnam, and my father is from Nigeria. They met and fell in love in Texas, but their families didn't approve of their union. As a result, my siblings and I didn't have a relationship with our extended family or with our cultures, for that matter.
Navigating a mix of identities at times felt complicated. When I'd watch my father's interactions with law enforcement, I surmised that perhaps one part of my identity could be safer than the other. But the rise in anti-Asian violence has shattered that illusion and reminded me that the shields we hide behind can be dangerously thin.
Social media has been a powerful tool for organizing, but it can also push us into echo chambers. Chelsea Miller, a co-founder of Freedom March NYC and a social impact strategist, believes that challenging rhetorics that divide our communities is a critical step forward. "The reality is, we are all connected," she said.
I am still striving, and struggling, to carry the weight of being both Black and Asian in this uncertain moment. I feel the push and pull of both sides, but I'm learning to lean into the liminal spaces where my intersectional identity sits. I see that there is nuance, beauty and complexity to be found in that messy middle. Belonging can happen in connections and contradictions and in bridging and breaking. Being in between can be painful but also powerful.
*---------*---------*---------*---------*---------*---------*
*---------*---------*---------*---------*---------*---------*


*---------*---------*---------*---------*---------*---------*
*---------*---------*---------*---------*---------*---------*
*---------*---------*---------*---------*---------*---------*
*---------*---------*---------*---------*---------*---------*
*---------*---------*---------*---------*---------*---------*
*---------*---------*---------*---------*---------*---------*


*---------*---------*---------*---------*---------*---------*
*---------*---------*---------*---------*---------*---------*
*---------*---------*---------*---------*---------*---------*
*---------*---------*---------*---------*---------*---------*
*---------*---------*---------*---------*---------*---------*
*---------*---------*---------*---------*---------*---------*
*---------*---------*---------*---------*---------*---------*
*---------*---------*---------*---------*---------*---------*


*---------*---------*---------*---------*---------*---------*